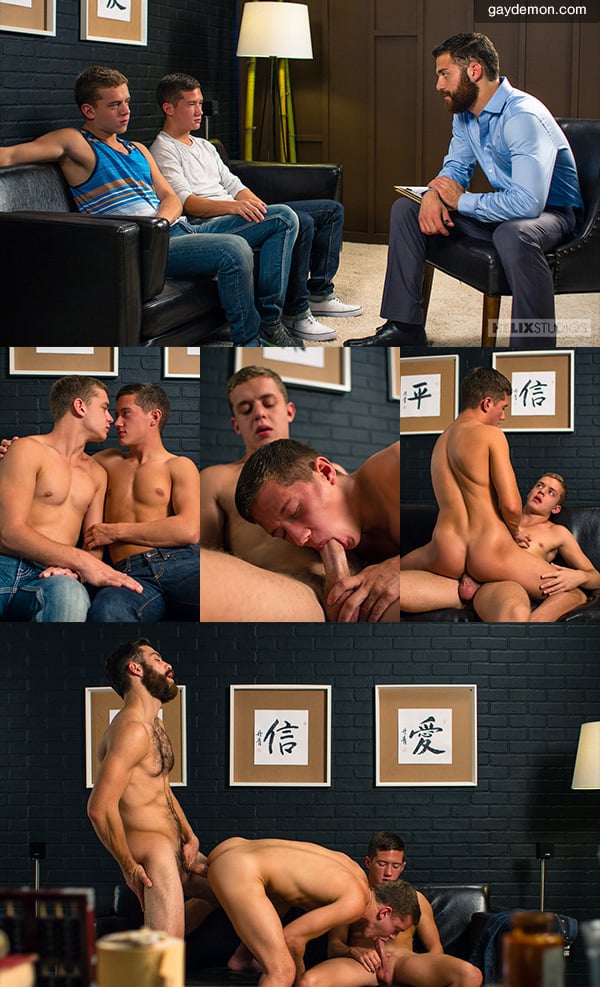 I have never been to a sex therapist, so I don't know if they actually have sex with their clients. I suppose it makes sense: why just talk about it when you can be shown what to do? In Helix Studios "Sex Therapy," lovers Ian Levine and Tyler Hill have hit a little bump in the road. They've been together for two years and Tyler gets the feeling the Ian isn't interested in having sex anymore -- maybe that's because they're both giant bottoms -- so they enlist the help of sex therapist Tommy Defendi to get them back on track.
Tommy guides the guys through an exercise and tells Tyler to put his hand on Ian's knee. Then he instructs the lads to take off their shirts, then kiss, and pull out their cocks, and one sucks the other. Eventually the boys are completely naked and Tyler is sitting on Ian's hard-on and riding him. Ian sticks his head around his lover and asks the sex therapist if he'd like to join in.
Tyler and Ian each have a cute, little bum, so who could blame Tommy for wanting to join in. And let's face it, neither of the lads is swinging a 9-inch dick, so they each like the idea of bending over and getting some backdoor therapy. And the boys rediscover their passion kissing and sucking each other while taking turns getting fucked by the therapist's giant cock. Now that sounds like some therapy worth paying for.