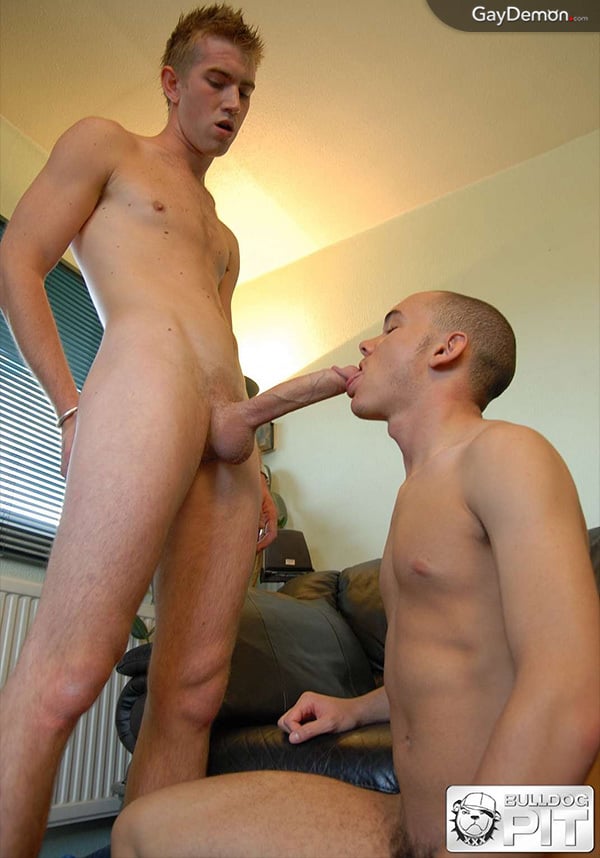 I once heard Matt Hughes say in an interview that he rarely gets good head. And with an 11-inch monster cock it's easy to understand why -- even the most skilled cocksucker would have problems swallowing this gigantic piece of meat.
Tommy doesn't have a problem taking Matt's huge dick in this video from Bulldog Pit. Sitting on the couch Hughes wraps his fist around the base of his dick and Tommy starts sucking. He has no trouble getting his mouth halfway down Matt's long shaft. Tommy takes over, getting on his knees, and showing off what a great cocksucker he is gulping on Matt while the blond sits back and enjoys the head. I can't say that he swallows it balls deep, but he does get most of it down his throat.
The bigger challenge is for Matt to get his dick hard enough to stuff inside this bottom's hungry hole. Matt opens Tommy's ass with his finger, then start pushing his floppy sausage inside. After a few minutes of pumping, Matt's massive cock stiffens up and he drills this bottom balls deep and hard. Whether using his mouth or his ass, Tommy shows that he's definitely a bottom worth watching.