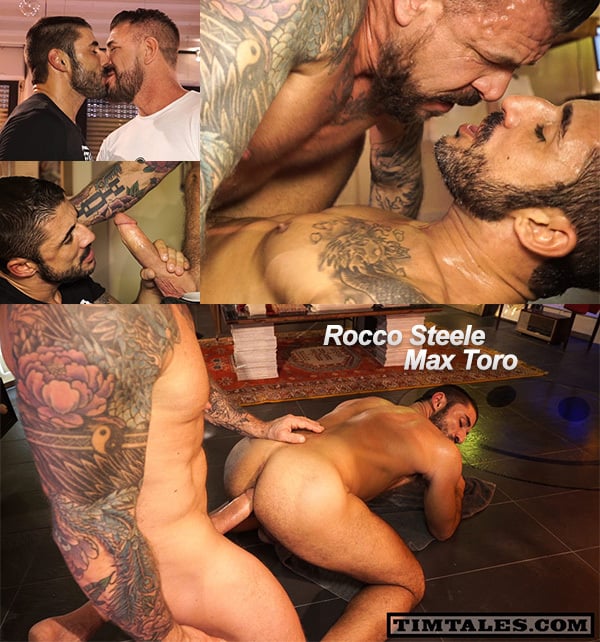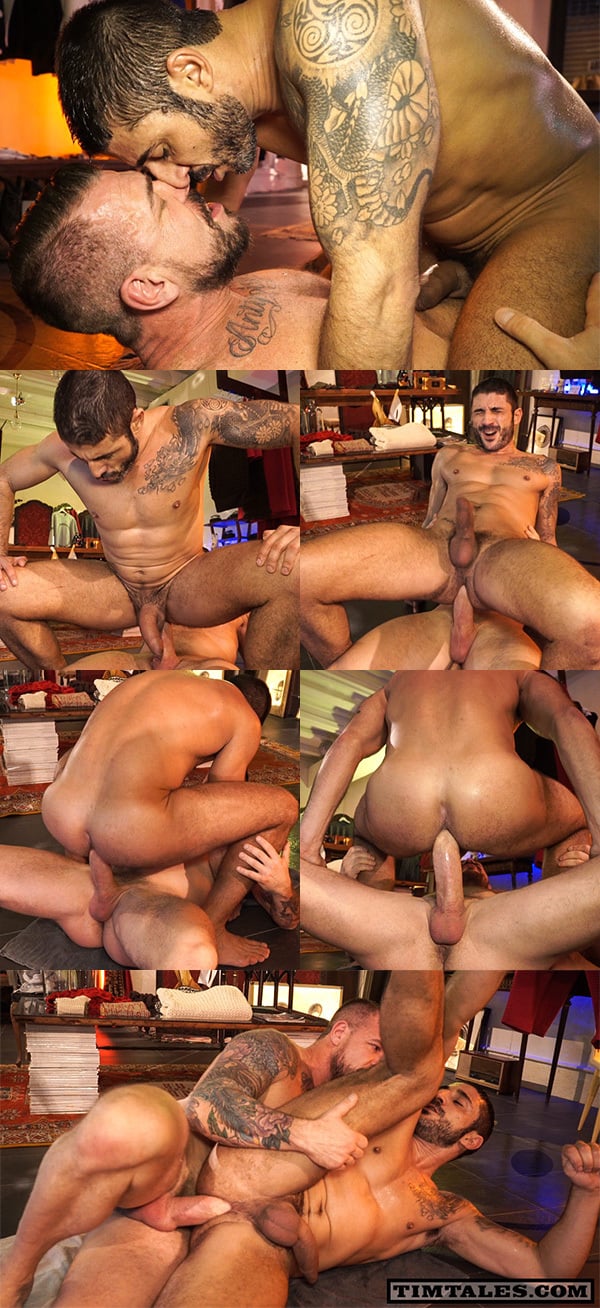 I've watched enough video of Rocco Steele that I know the man's moves and growls. I feel like we're fuck buddies, and even though the sex is still exciting, there are no surprises. When Steele wants a bottom to take more of his ginormous dick, he does this thing where he gently pats their head or ass, as if two taps are the secret knock that opens the door. In this Tim Tales video, Max Toro already has half of Steele's cock down his throat when Steele does the "Open Sesame" tap, but Toro's mouth is stretched to a full gape.
This is Rocco Steele's fourth time over at Tim Tales. (I wrote about another one of his superb fucks with power bottom David Avila.) And for this new scene with Max Toro, they're shooting in a clothing store in Barcelona. Steele is trying on a t-shirt when Toro comes in and first lays eyes on his scene partner. Smiling, Max giggles, then walks over and gives Rocco a hug. "Very nice," he says as Steele pulls him close. The hug becomes a kiss and they're off. Did anyone lock the door? I guess Steele's buying the t-shirt now.
We watch over Steele's shoulder as he holds Max's head with both hands and pumps his mouth, the cocksucker gulps and swallows with impressive competence. But really, Toro excels at taking this monster cock in his ass. He chortles and sucks wind as Steele buries it deep over and over. Max is not begging for more, he's not hollering for Steele to stop, he simply savours the fully-stuffed feeling of 10x7 inches plunging his hole. My favourite moment sees Steele mount Toro and they look at each other and kiss while Steele continues screwing Toro. It's a panting, passionate moment right there on the floor of the store.