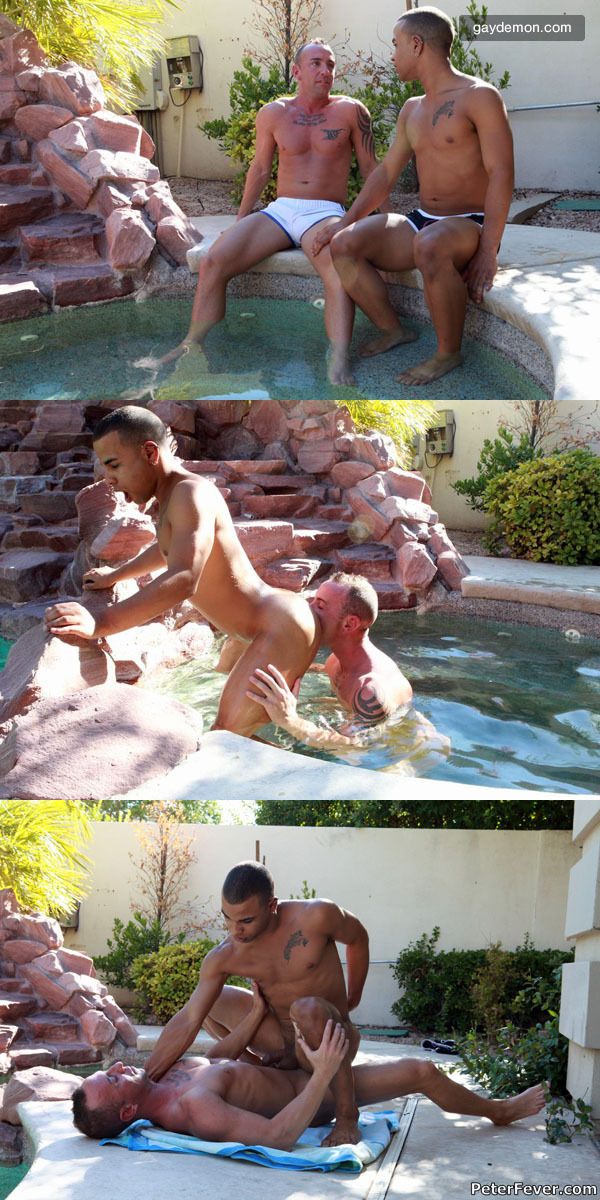 The latest addition to the "Coming Out" series over at Peter Fever is called "Coming Out - Inexperienced" and stars the hung and uncut black bottom Trelino and hot white top Matt Hart.
The guys are out by the pool sun-baking, as Trelino just LOVES to do, and he is thinking about something he'd heard recently about some friends of his who decided to add a bit of spice to their relationship with a little role-playing. Trelino decides to do something similar with his sexy partner today and "pretends" that he's an innocent little gay virgin just "Coming Out"!
Matt catches onto the game fast and after some passionate kissing, his bathing suit is off, he's stark naked, his cock is rock hard and it's being sucked off by our "Innocent Inexperienced Virgin" - Trelino! The guys sure took to their roles well - once the sucking finished, the more "Experienced" Matt takes control and turns his young lover around, pulls apart his arse cheeks and gets between them and rims the young lad like he'd never been rimmed before - the look on Trelino's face captures it all - he genuinely looks like it is his first time!
Then, to complete the whole theme and experience, Matt fucks the young "Virginal" Trelino from behind until the guy is moaning and groaning with the pleasure of it all. Then Trelino decides enough is enough and gives up on the whole "Inexperienced Virgin" fantasy theme and sits his tight little hole down on Matt's long, hard pole and rides it hard and fast, like the pro he really is!