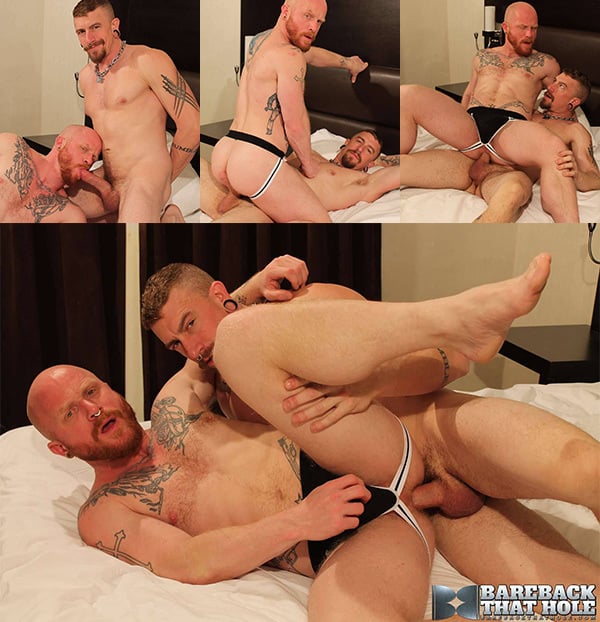 Can you continue getting fucked after you cum? Maybe I could if I just pushed past it, but I've always found my hole is extra sensitive after blowing my wad. But Brock Ruskin doesn't seem to have that problem. He's riding Jeff Randall's bone reverse style in this Bareback That Hole video and he unloads his nuts on the sheets between Jeff's thighs. Jeff pushes Brock off his dick and fucks him doggy style until, five minutes later, he's finally ready to blow.
Jeff Randall is a fairly new to Pornland, he filmed his first scene with Bareback That Hole a few weeks back when he fucked Jon Shield. This second scene with Brock Ruskin was only filmed a couple of weeks ago and I was supposed to meet these two, along with Rocco Steele, while they were here filming in Toronto. But site owner Ricky Raunch never called. I heard later from Steele on Twitter that the filming schedule was rather frantic. So, disappointing, but that's how it goes in Pornland.
Jeff and Brock have great chemistry in this scene, it's pretty clear that they're into each other. And Jeff isn't a do-me top, he loves sucking dick and eating ass as much as he loves fucking. And Brock is in love with this daddy cock. And no wonder, Randall's fucking style gets my hole twitching.
See more at Bareback That Hole