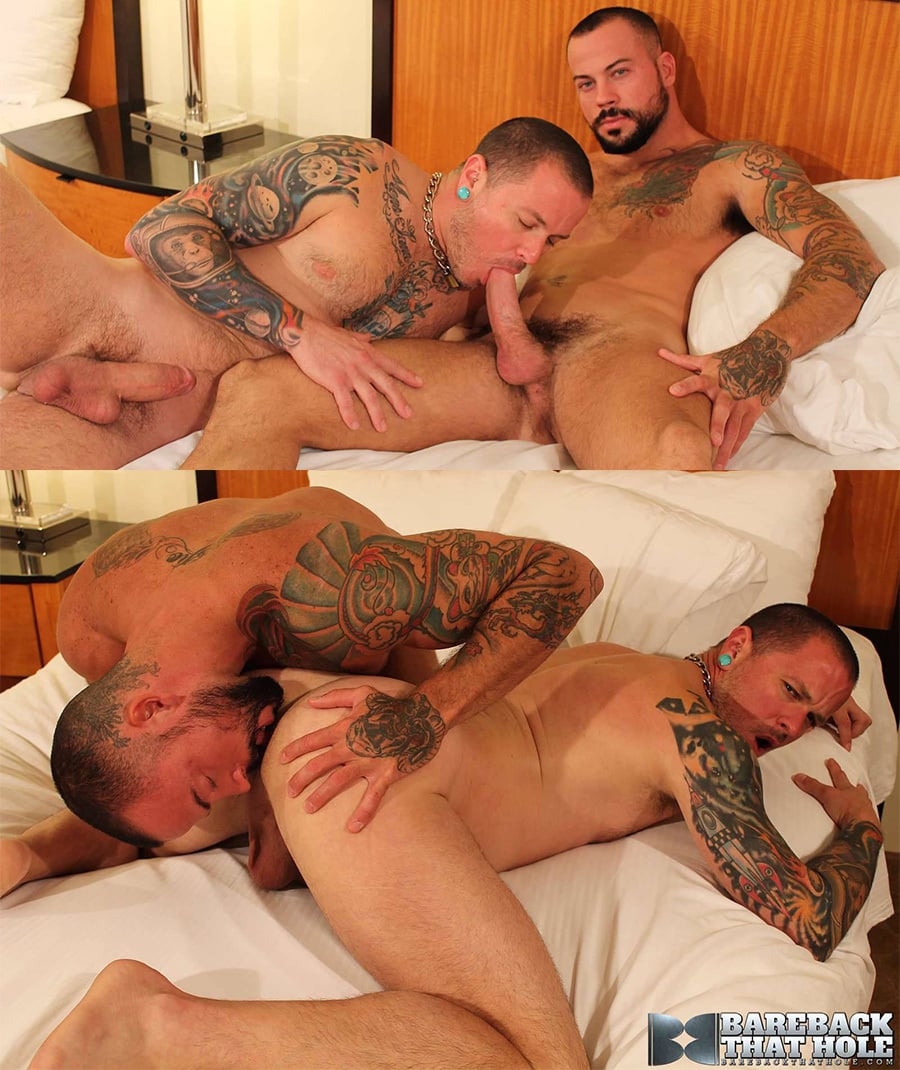 Max Cameron has filmed nine scenes for Bareback That Hole, including one with his real-life lover Jackson Fillmore and another with monstrously hung Rocco Steele. But this is Sean Duran's first session with the site, and it's likely the first of many more to come since the producer usually flies in a half dozen guys for a week-long marathon fuck and film jag. And while I initially liked this pairing, it got started off on the wrong foot in my opinion. Come inside and see why.
The opening of this scene has Sean Duran standing beside the bed and Max Cameron is gorging himself on his big, hard dick. But there's just so much distraction here. Max is wearing giant turquoise glass globes in his ears, they're like that giant red EASY button in the Staples commercials, I can't take my eyes off them. Then there's chain around his neck and I started wondering why the producer got a hotel room with two beds instead of the big king that he normally books. There are tattoos everywhere, and while I'm not normally bothered by ink, with this pairing, it seems to be competing with the dick sucking I'm supposed to be watching. The camera pans up to Duran and there it is, that gazelle skull inked onto the side of his head. Now that's distracting.
Finally, Duran shoves his big hard-on in Max's ass and I can concentrate on some juicy cock-in-hole close-up action. Thank goodness neither of the guys has their junk tattooed or pierced, so it looks like clear sailing from here. But it's not really because Max has lube or spit or butt juice or cum trailing out of his over-stuffed hole. It really looks like cum, so now I'm wondering if Duran shot his load prematurely, and if so, how did I miss it? So after much rewinding and rewatching I can't figure it out. And I eventually settle in to watch Duran pounding Max's hole. Max loves it, but at times Duran looks like he's putting in time. I don't know, maybe I just woke up on the wrong side of the bed this morning. Have a look and let me know.
See more at Bareback That Hole