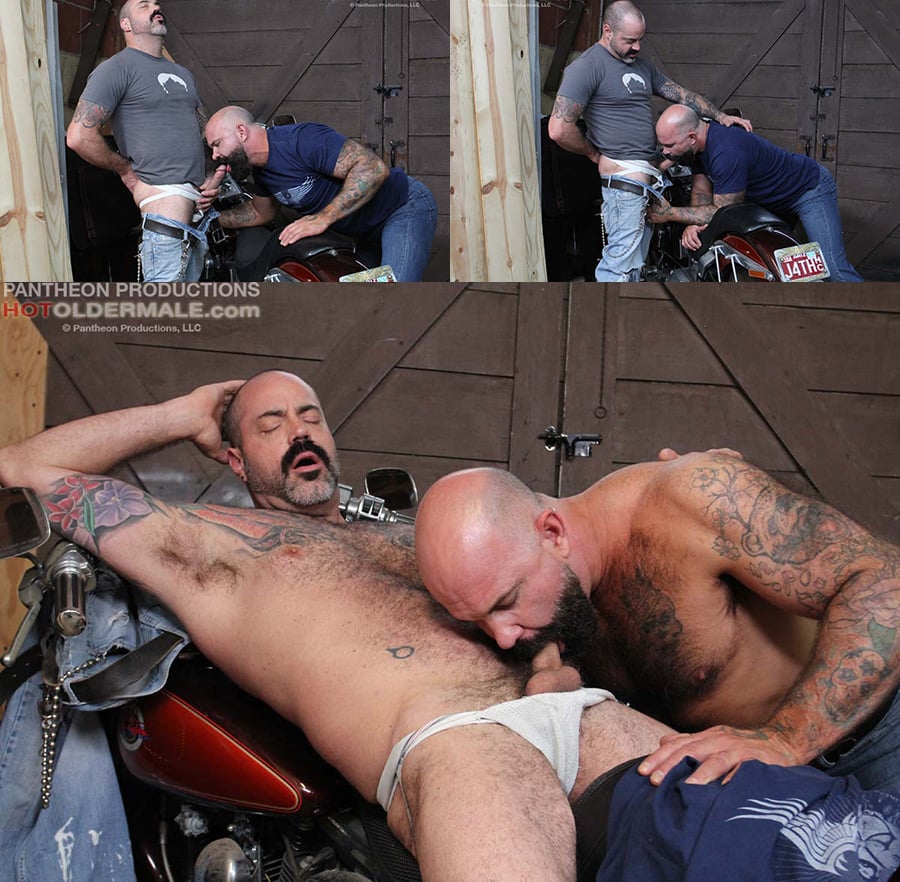 Do you ever watch those reality car shows where they overhaul some old junker? This new Hot Older Male video is sort of like that, at least until the dicks come out. Charlie Harding is bellowing at Scotty Rage (his lover in real life) and Victor West that he wants this motorcycle finished by 5 p.m., then he storms off. Scotty grumbles, then rubs his screwdriver over Victor's bulge suggesting they do something else. "What do you have?" a very cocky Victor asks. I don't know about you, but Scotty Rage could be packing a vagina and I'd still play with him. Well, maybe not, but ... Come inside and see what they get up to on that motorcycle.
Apparently Scotty has enough to get Victor interested and down on his knees. He gulps his way down Scotty's big dick until he's buried it deep inside his throat. The shirts come off and Scotty and Victor rub each other's furry chests, Scotty plays with Victor's nipples and nuzzle his hairy armpit. Scotty sits back on the motor bike while greedy Victor gets another helping of dick. He sure is hungry.
Victor lies across the bike and Scotty eats his ass, then fucks his furry butt. I have only ridden on the back of a motorcycle once, and that was hard enough, I can't imagine trying to balance on one while a big brute like Scotty Rage pounded my butt. But Victor takes it and wants more. They eventually throw down a blanket on the garage floor to finish this sweaty screwing. Victor rides Scotty and creams his chest, then Scotty sits on Victor and blows cum across his hairy chest too. As for the bike, it won't be finished and the boss is going to be pissed.