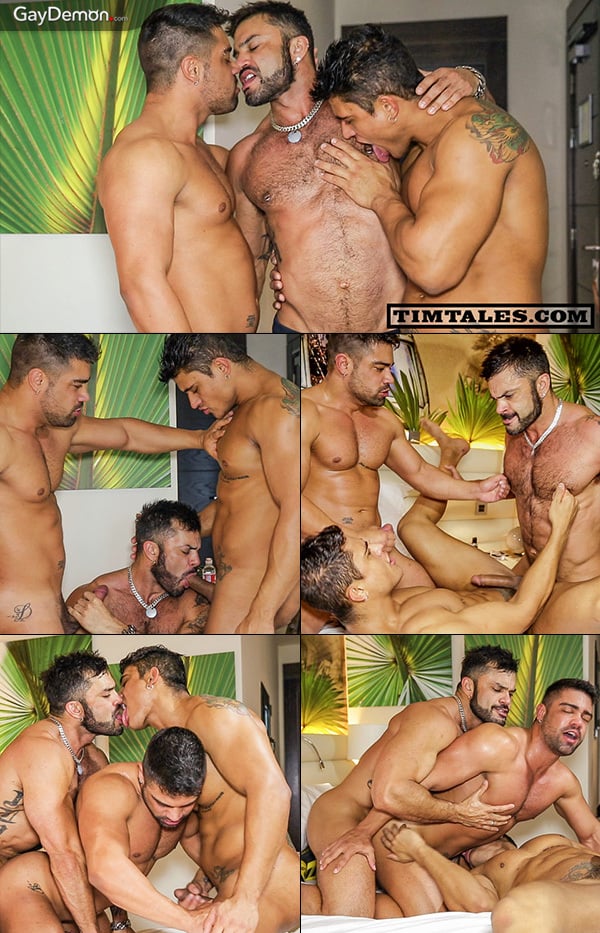 Diego and Wagner are a hot Brazilian couple, real-life lovers and they've played together on Tim Tales before. Site owner Tim Kruger did a sweaty threeway with them a while ago. They're back for another session and this time Australian hunk Rogan Richards is fucking them.
I love watching Diego and Wagner because they're always really into these threeways. I don't know how open their relationship is, but these scenes always look like they only fuck other guys in porn and off camera they're monogamous. So when the cameras roll all this pent up sexual energy oozes out of them and they're really turned on finally getting to play with another man again.
They enjoy watching each other sucking another man's dick as much as they get off doing it. Rogan Richards is a passionate and aggressively fucker and these three men spend the after rolling all over that bed. When Rogan fucks Diego's ass hard, Wagner is right there making his lover's cock, balls, and nipples feel good. And when things go the other way, Diego does the same. There's no odd man out in this threeway, it's on fire.