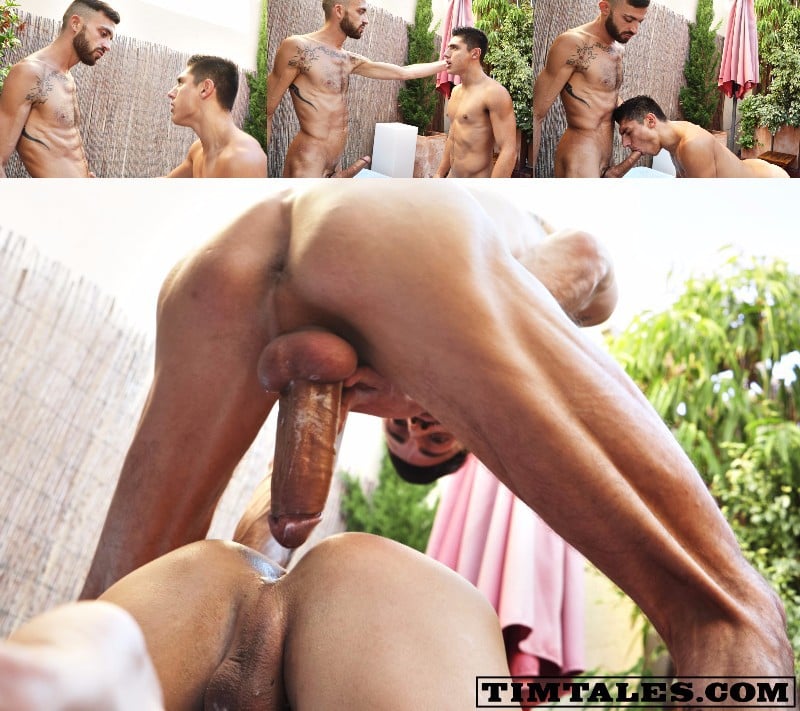 Watch Rodolfo in 7 Videos at Tim Tales
Roldolfo has tamed five bottoms with his giant cock, so when Tim Tales was looking for a top to initiate newcomer Ken Summers, site owner Tim Kruger couldn't think of a better top than Rodolfo.
It's quite amazing how much dick can fit into a guy's asshole. I've played with this stud at my local sex club and he's packing serious meat. No matter how hard I try, it's too fat to slide down my throat. And even when he says, "Bend over I want to fuck you," I know it's going to be five minutes of grunting and struggling. Worth it in the end, but still. Then my ass gives up, it stops fighting, and suddenly everything relaxes and my buddy slides right in. Another couple of minutes of warm-up fucking and he's riding the train to Poundtown.
I think Ken Summers had some off-screen warming up because Rodolfo slides deep inside on the first try. I guess that makes sense though, who wants to sit through five minutes of wailing and pushing. We're not watching a birth. No, we want to see Rodolfo's massive cock plunging in and out balls deep. And it does. Ken even pulls on his butt cheek to see if he can get anymore dick in his ass.