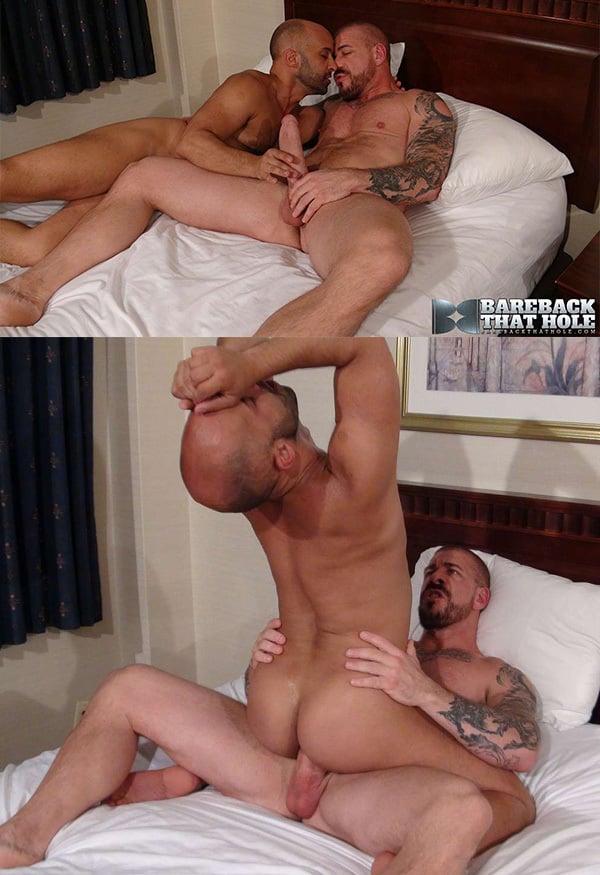 Rocco Steele is lying back with his legs spread wide and he's holding his meat straight up in the air so we can appreciate it. Igor Lucas is lying beside Rocco, kissing him and eventually wrapping his fist around that monstrosity. Two fists around Steele's bone and there's still plenty more sticking in the air. That's how this new scene from Bareback That Hole opens.
I'm impressed with Igor's cock-sucking skills. I mean, he never really does swallow much more that half of Steele's dick, but could any of us? Igor tongues every inch of Rocco's thick shaft, sliding up and down the underside, then he swirls his lips around Rocco's sensitive head. He sticks it in his mouth and bobs on it and spits in his palms and gives Rocco a two-handed jerk. Rocco's dick is rock hard through it all and daddy is moaning his pleasure.
I'm even more impressed that Igor didn't struggle to take Rocco's hard-on. Steele spent a lot of time eating and fingering Igor's hole, so the bottom was dying to feel it. Igor is lying on his stomach, Rocco slaps his wet hole a couple of times with his dick, it looks so huge lined up on Igor's small butt, and I think, "No way." Rocco pushes his way in. Igor heaves his chest and head off the bed, grabs two fists full of mattress, and that's it, Rocco is balls deep. The rest of this fuck is an eye-rolling piece of cake. Not only impressive, but a lot of fun to watch.
See more at Bareback That Hole