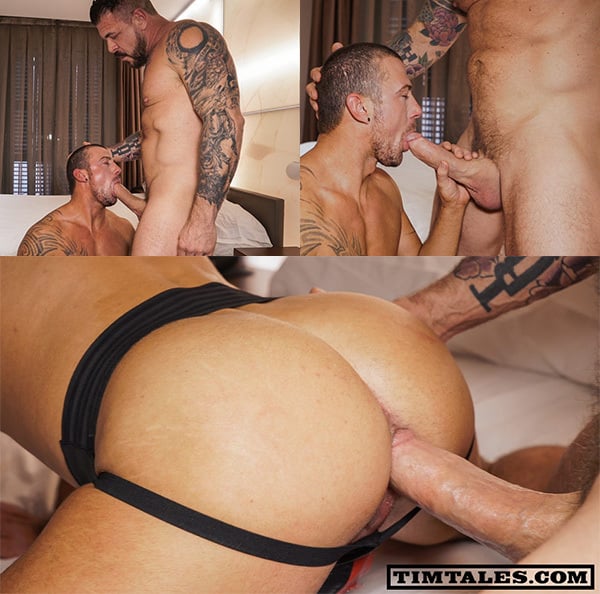 I very nearly met Rocco Steele this weekend. He was in Toronto filming a bunch of scenes for Bareback That Hole. My buddy Matt Stevens was here as well and Matt and I usually get together for lunch whenever he's in town, and this time he offered to bring along Rocco. I've talked to Steele lots on Twitter, so meeting him would have been a lot of fun. Sadly, Bareback That Hole kept them too busy cramming in four or five scenes each over three days, so lunch didn't happen. And "lunch" in not a euphemism for anything else, but since I didn't get to sit across a table from Mr. Steele, I took another look at his latest fuck scene over at Tim Tales.
This is Rocco Steele's fifth video for Tim Tales and this time Marco Sessions is tackling Rocco's 10x7 cock. Tackled probably isn't really the right word because Marco doesn't seem to have much trouble taking monster meat. He bottomed for Tim Kruger a while ago, and a few weeks back Jaguar (David Ken) fed Marco his 10 inches.
I've watch Rocco Steele fucked a lot of guys and some take it better than others. Seeing Marco down on all fours and Rocco plunging all the way in and back out repeatedly was a treat. Every time Rocco pushes slowly back in, Marco groans. I know that over-stuffed feeling, it's bottom heaven. And I can't think of a better way to pay homage to a giant cock than to cum all over it like Marco does here. Fantastic.