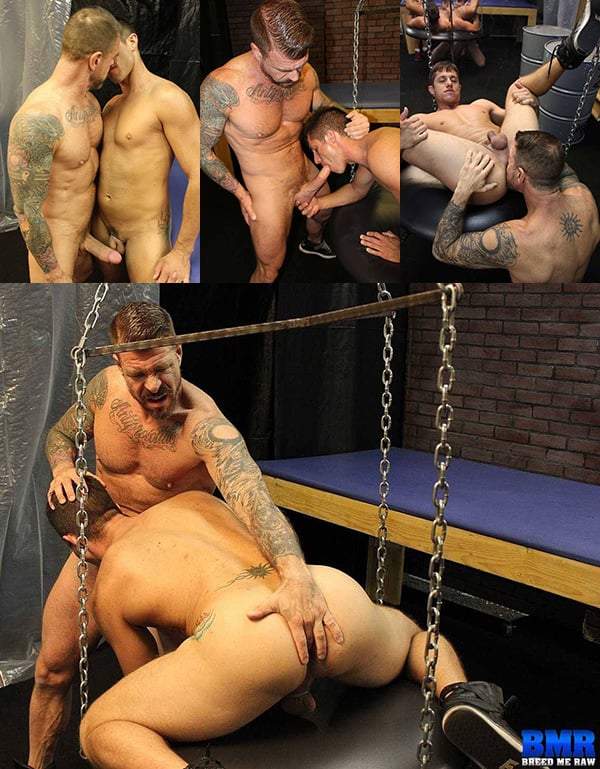 Look at Rocco Steele fingering that ass. Doesn't Dylan Saunders have a nice, round butt? This Breed Me Raw video opens differently than most of Steele's fuck sessions. Normally he kisses his partner, then begins the struggle to see how much of Steele's dong the bottom can swallow. But this one opens with Dylan lying on his belly across a suspended pad and Steele's face is buried in his beautiful ass. I think Steele likes rimming almost as much as he loves fucking.
Once Steele has had a good taste of Dylan's hole, the bottom hops down and gets to work on Rocco's hard-on. Like most good cocksuckers I've seen playing with Steele, Dylan can swallow half of it, but not much more than that. It doesn't matter, he's enthusiastic and can't stop moaning as he sucks Rocco's monster meat.
Dylan returns to the padded swing and bends over it and Rocco slides right in, like all the way in. Dylan moans, but it doesn't sound like he's struggling. It sure doesn't sound like he wants it to stop. My favourite part of this scene has Dylan lying on his back and Rocco pulls the swing's chains and rocks Dylan's ass back and forth on his giant cock. Man, that was nice.