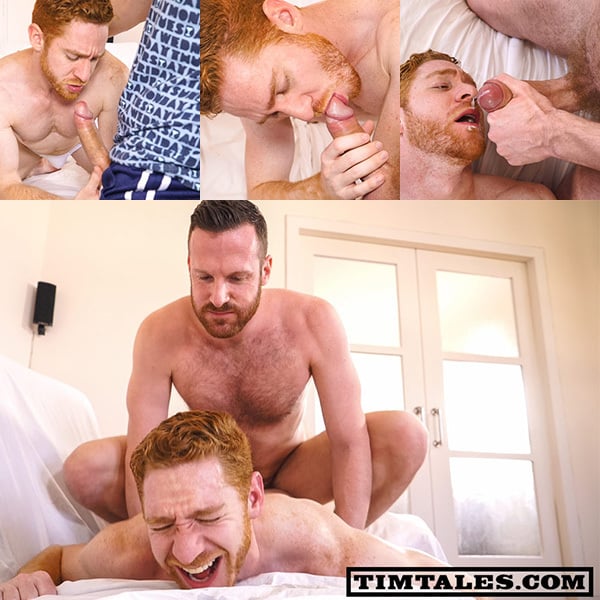 We don't see enough gingers in Pornland. So when Tim Tales started off January 1 with a horny redhead, I have to wonder if 2015 is going to be a bumper crop of ginger men. Who knows. But what I do know is that Leander is one of the most enthusiastic bottoms I've watched in a while. And I doubt this will be the last we see of him over there.
It isn't hard to see that servicing Tim Kruger's monster cock was a fantasy come true for this sexy redhead. When Leander first pulls it out of Tim's shorts, he's duly impressed, even a little shocked. Then his face beams as if he's thinking, "Holy fuck! This is going to be fun." I'm sure he checked it out on Tim Tales before heading over to Kruger's apartment, but still, seeing a man's bone in person is vastly different that seeing it in a video or picture. Cameras, and their operators, can pull all kinds of tricks, but it's clear that Leander isn't the least bit disappointed, nor does this humongous tool frighten him.
If you're a bottom, you'll be familiar with the expressions on Leander's face. We've all been there. I can relate to the furrowed brow, that look of questioning: "Really? There's still more? How much more?" Then the look of relief when your hole finally gives in and takes those last couple of inches. A smile curls across Leander's lips, he's so damned proud when he finally takes the whole damned thing. And with every position change, there's a fresh reacquainting with this giant dick, but each time feels better than the last. And finally, Tim has had his fill of this ginger's tight ass. It's been quite a trip for him too and Kruger can't hold back any longer. He kneels over Leander's mouth and starts filling it with his thick load of sperm.