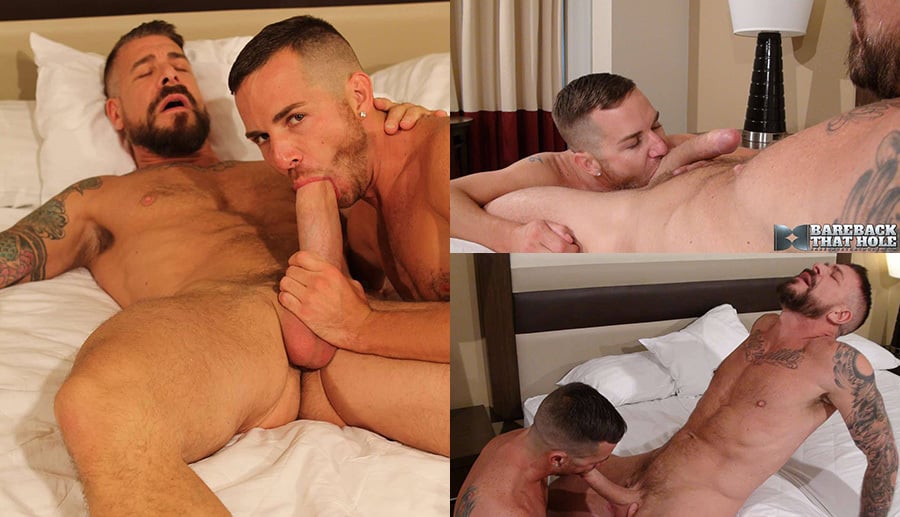 It was about this time last year that Rocco Steele and his giant cock started popping up in Pornland. He has filmed a dozen videos for Bareback That Hole alone, and his session last week with Parker Kane was lucky number 13. Kane is a handsome guy and you'll love watching him kneeling between Steele's legs. The camera films over Rocco's shoulder, so we get a good look at how Parker handles this huge piece of meat. Like most of Steele's bottoms, Parker bobs on the head, but everyone so often he gulps down half of it and Rocco groans, "Yeah, that's it, good boy."
I have to say that I've been losing interest in Rocco Steele. He's like that Taylor Swift song "Shake It Off," when I first heard it, I couldn't get enough of it and I could have played it several times a day, and did. But now that I've heard it 96 times, I've had my fill of it. I'll still leave it on my cell phone and play it every once in a while -- and it'll always get me grooving -- but I don't need to hear it every week. Don't get me wrong, I love Rocco Steele; I still think he's a handsome hunk and the sound of his gruff voice alone gets my hole twitching. But I've seen a lot of his videos and I pretty much know how they're going to go. I guess it's different for a porn blogger, I don't just watch these videos for fun, it's my job.
But this video had a couple of surprises. Kane starts off taking Steele on his back, then they spoon fuck, and finally, Kane gets on his hands and knees. Rocco slides in, but then the bottom takes over twerking his ass on Rocco's monster. Hot! Hot! Hot! That was a lot of fun to watch. Parker's gyrating almost made Rocco cum too, so he had to put a stop to it. The other great moment had Parker throwing his legs over his head and hooking his feet in the headboard, then Rocco stands over him and pile drives him backwards. And the third was Parker's cumshot: he bounces on Steele's dick, then as his cock starts to squirt, Parker sits all the way down on Steele's cock so it's pressing against his prostate and he blows his wad all over the bed sheets. That's was exciting. Okay, I guess maybe I'm not completely over Rocco Steele yet. How about you?
See more at Bareback That Hole