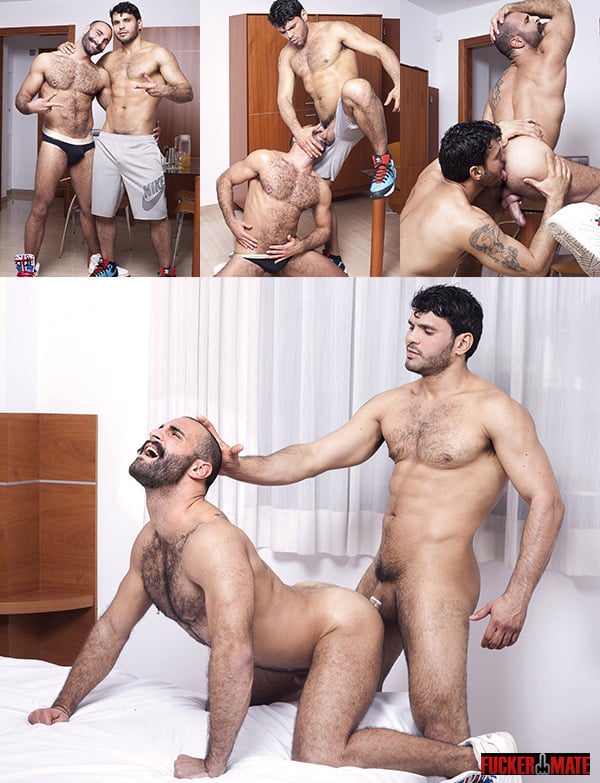 I don't know how men fuck in sneakers. Sure, if you're tromping around the woods at night, you've got to wear shoes, but while fucking in bed? I can't even leave my socks on. But it does look pretty sexy, doesn't it? Jean Franko and newcomer Paco sit down to have some breakfast in this new Fuckermate video. Franko says, "I have something for you," and rises and hauls out his big meaty cock. Paco's in the mood for some sausage for breakfast (sorry I had to go there) so he crawls across the table and starts chowing down.
Paco is an Italian hunk and is very likely going to go down as the sexiest newcomer to arrive in Pornland last year. He got his big beefy ass fucked by Aussie hunk Rogan Richards in Raging Stallion's "The Tourist." I was hoping that Paco would start popping up on some of the other European sites, and I didn't have to wait long. And this time, he's wearing a curled moustache which looks kind of silly and sexy all at the same time.
Franko is never one to take it easy on a bottom. So after Paco swallows his cock, the beefy Italian gets down on all fours on the floor and Franko whacks his ass hard with his open hand. Then they move to the bedroom and Franko fucks Paco hard. My favourite sequence sees Paco lying on his stomach with his ass in the air and Franko is throwing his whole body into deep thrusts. It's a sizzling fuck. Even the clean-up in the shower will get your cock rising for another round.