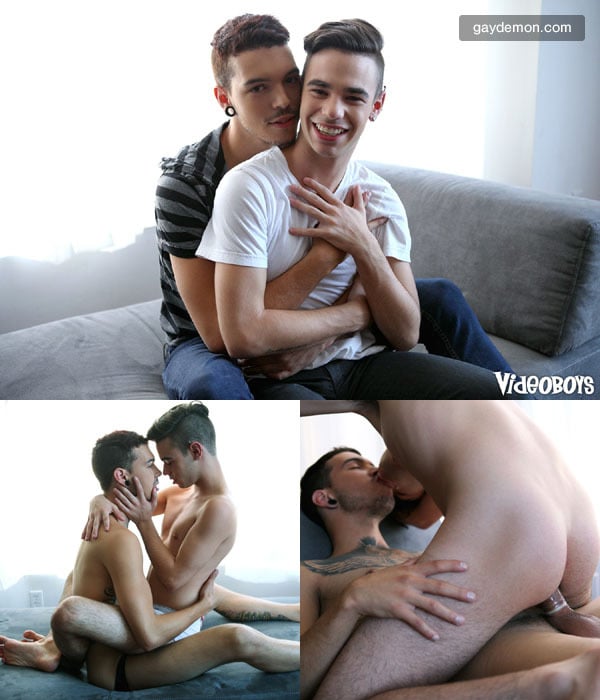 Zac Hunter is a twink on a mission - he's always horny, knows exactly what he wants when he sees it, and is not afraid to let the world know all about it! Video Boys had heard that Zac really wanted to get fucked by Jo Diamond, and they arranged this meeting so the guys could do their thing!
Whenever Zac see someone he likes, he will tell anyone within earshot "Oh my God, I want him to fuck me!" - and that's exactly what he said when he first saw Jo Diamond. Unfortunately at the time, they were out and about doing the rounds of the gay club scene, and only had time for a quick grope session in the front seat of a mate's car. So when Video Boys suggested they get together and do it right, in front of their cameras, both guys were instantly down for it!
Zac has a thing for cute guys with lots of tattoos, so he naturally found Jo irresistible - plus of course, he is as sexy as hell, charming, disarming, and very nicely hung. Zac likes to think of himself as a power-bottom, tho he's not really come to terms with taking super-large cocks yet, but is willing to try! Jo has a big uncut dick and really knows how to use it - and he uses it often. So these two are a match made in heaven!
With so much sexual energy bouncing around the room, the camera crew knew there was no point in directing the action - they just let it all happen naturally. The romantic nature of both lads came thru and some sensual kissing, nipple licking and gentle caresses soon had them both naked and hard, and then the testosterone really kicked in and they exploded into a fucking frenzy! Some great cock sucking and rimming action preceded the main event - Jo's pounding of Zac's tight little arsehole - not to be missed! And who knows, maybe soon you will be saying out loud, "Oh my God, I want him to fuck me!" too!