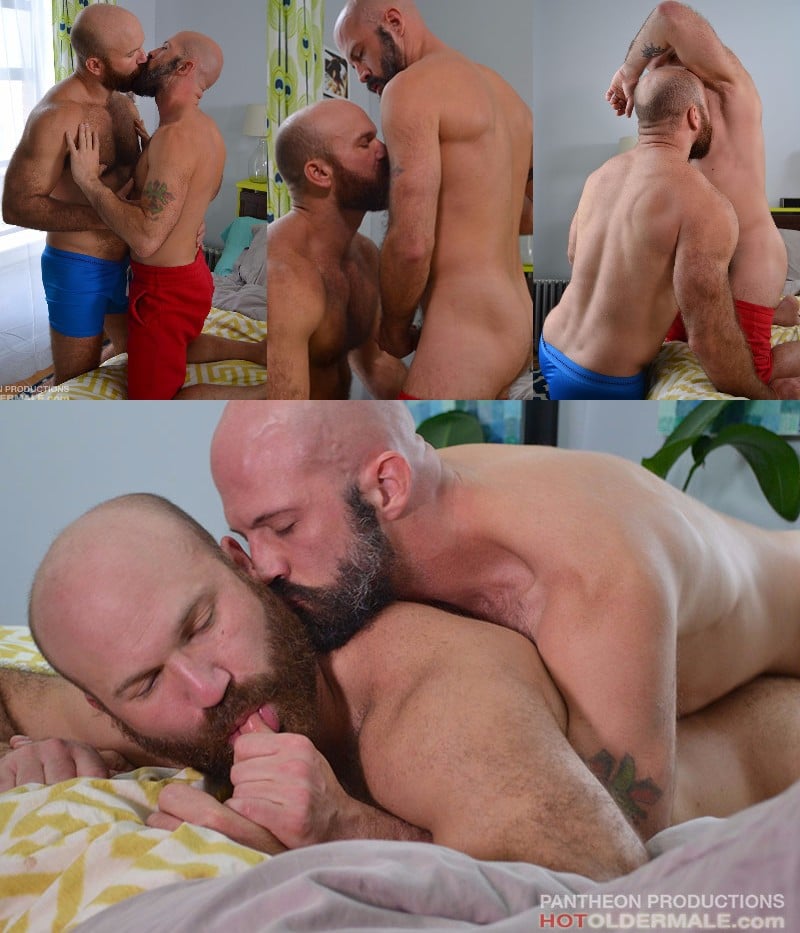 I don't know if Nixon Steele and Mickey Carpathio are real-life lovers, but after watching this Hot Older Male video, you'll sure hope they are. Talk about a passionate pair.
As this pair of New York muscle bears wake up, Nixon Steele decides he's going to try and keep Mickey Carpathio in bed for a while. Isn't that what Sunday mornings are all about? Reading the New York Times or breakfast in bed? Or better yet, a long lingering fuck session? And just to clarify who is whom in this bald muscle bear couple, Nixon is the beefier of the two and he gets his ass fucked and Mickey has an armband tattooed across his right bicep and fucks like a well-oiled machine.
Nixon leans over and nibbles Mickey's nipple and things start stirring under the sheets, so Mickey pulls them off and pushes his red shorts down his thighs. Nixon grabs his lover's meaty cock and swallows. Things heat up with the men kissing while Mickey strokes his bone, then Nixon lifts his legs and pulls off his blue shorts. Mickey rubs his finger around his lover's butt hole. After some dick sucking, Nixon gets on his hands and knees and Mickey slides his bare bone inside and gets this marathon fuck session started. And man, it's hot.