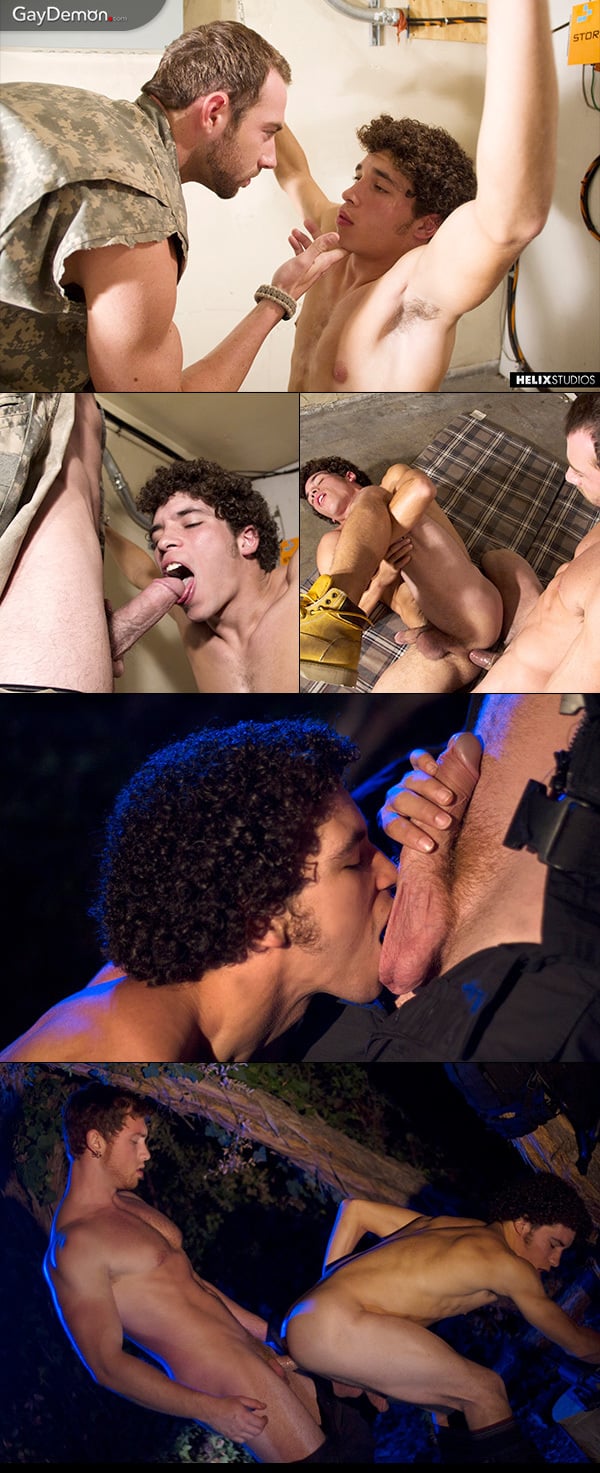 The Storm is a 5-part, rough sex series from Helix Studios that's been rolling out over the last month -- who knew these guys could be so nasty. In a post-apocalyptic wasteland, the first scene called No Resistance finds hung, curly-haired stud Austin Merrick on his knees with his arms chained to the ceiling. Hayden Clark feeds his beer-can thick cock down Austin's throat and gets his meat ready for the bottom's ass. Thoroughly fucked and with cum all over his face, Austin is abandoned. Connor Maguire rescues the prisoner. After escaping to safety, Maguire suggests that Merrick repays him for saving his life. Merrick's mouth and ass get another stuffing before the bottom finally finds freedom.
There's not much to do in this wasteland except suck and fuck, so Mario Romo and Asa Shaw pass the time in a bunker with Asa taking care of Mario's super fat cock. And in the fourth scene from The Storm, renegade fighter Connor Kline finds himself behind enemy lines, but he's refusing to tell soldier Connor Maguire what he wants to know. Maguire shrugs it off -- he'd rather get his big dick serviced than interrogate prisoners, so after forcing Kline to swallow his cock, he bends the prisoner over and gives him an ass full.
Kellan Parker isn't quite so easy when it's his turn to take over the interrogation. But even when Kellan shoves a gun in Connor's mouth, the renegade won't give up any information. The fuck Kline got from Maguire was just a warm-up for Parker's huge cock. Bent over a table Kline really gets his ass stretched by Kellan's giant cock before taking another cum load all over his body. If this is how the end of the world looks, it's sure going to be a hot time for bottoms.