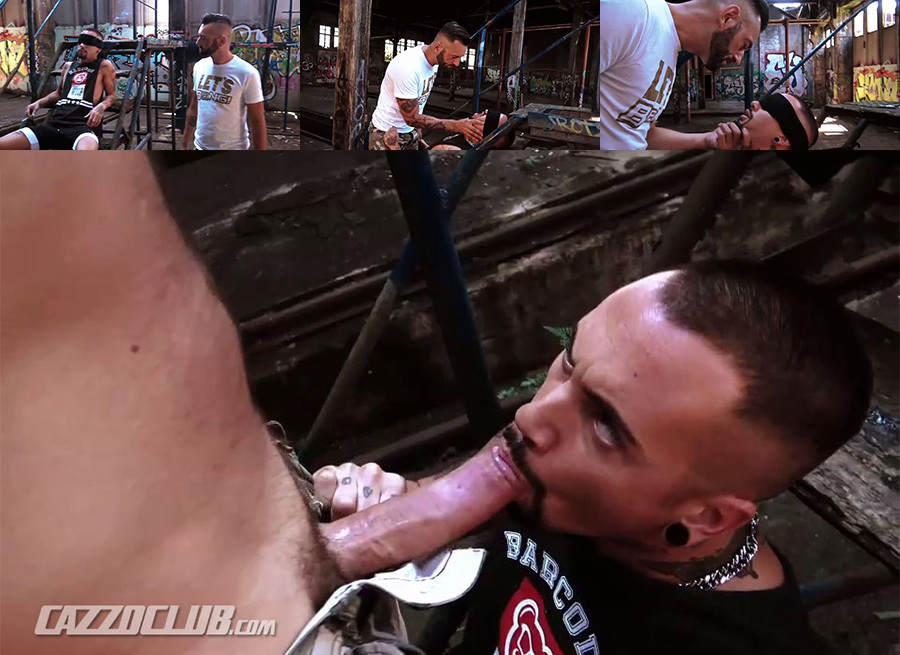 Michael Selvaggio has heard that men sometimes lurk in an abandoned warehouse on the outskirts of downtown, so he heads there to explore. He finds inked Dutchman Alexx Desley sitting on a metal staircase, blindfolded, and smoking a cigarette. "What an odd thing for a guy to be doing," Michael thinks. But what a hot opportunity too. He takes Alexx's cigarette, takes a drag, then blows smoke in his face. Selvaggio pulls out his big hunk of uncut meat and pulls Alexx's head and mouth onto his cock.
I can only imagine sitting around a derelict warehouse, blindfolded, and waiting for some stranger to use me. I've had sex in places like this, mostly as a young man because largely these kinds of cruising places are harder to come by these days in Toronto, they're putting a condo up on every inch of space these days. Besides it's hard to pry a cellphone out a gay man's hand and get him to leave Grindr and cruise in the real world, so even if such a warehouse existed, I could be sitting there blindfolded for days waiting for someone. There's a lot of cruising that goes on down by the lake, along the bicycle paths, but that's not quite the same thing, although it's great fun nonetheless.
Alexx gulps Michael's fat cock and deep throats it superbly and Michael face fucks him and makes him choke on his impressive meat. Michael removes Alexx's blindfold so the cocksucker can see who he's blowing. I might have preferred to remain blindfolded, not because Selvaggio is hard on the eyes -- he's totally my type of man -- but the not knowing is hotter, I think. Michael barebacks Alexx with nothing more than spit, and when he's done with the lad's ass, he sprays his face with cum, and walks away.