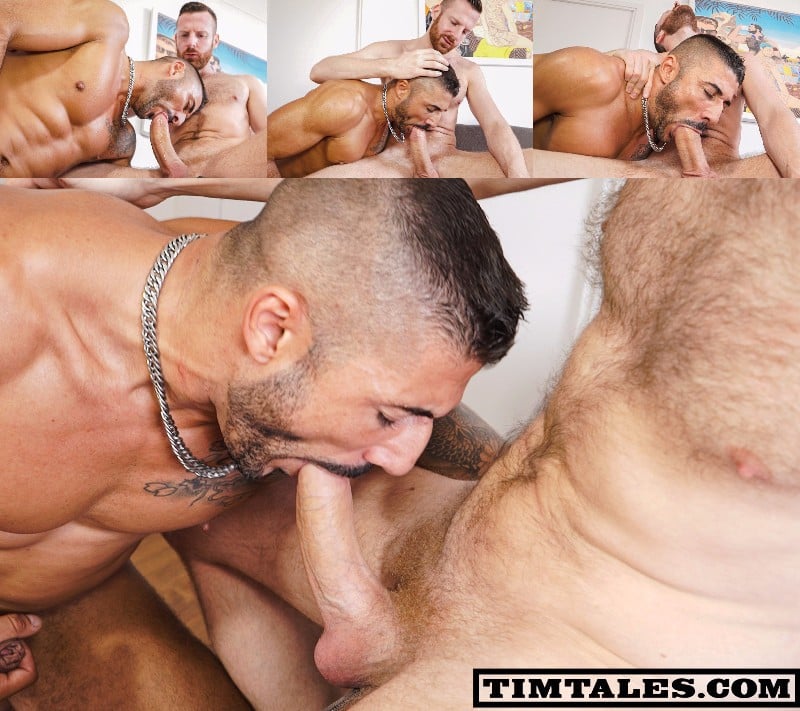 I thought Max Toro had appeared on Tim Tales before, but I couldn't find him in the roster of past scenes. And it makes sense that this is actually his debut scene because Tim Kruger almost always fucks newcomers first. And Toro loves taking Kruger's giant cock.
I've mentioned before how I've noticed that Spanish men tend to groan wu-ah during sex instead of the ohs and ahs that we North Americans moan. I think Tim Kruger has lived in Barcelona for too long because in this fuck scene I hear the German top moaning wu-ah among his ohs, he's picking up the vernacular, I guess. Regardless, he's loving Max Toro's mouth as much as the bottom is enjoying his giant cock.
Toro lies on his back and holds the top of the mattress while Kruger inches in and starts pumping his hole. Tim slides in behind him and holds Max's leg straight up in the air and spoon fucks him with deep and forceful strokes. "Wu'ah," Max moans while thumping his head back on the mattress. Then Max rides Tim and smashes his ass down on those 10 inches, and after getting drilled doggy style, Max lies back and opens his mouth and Tim fills it with his thick, creamy load.