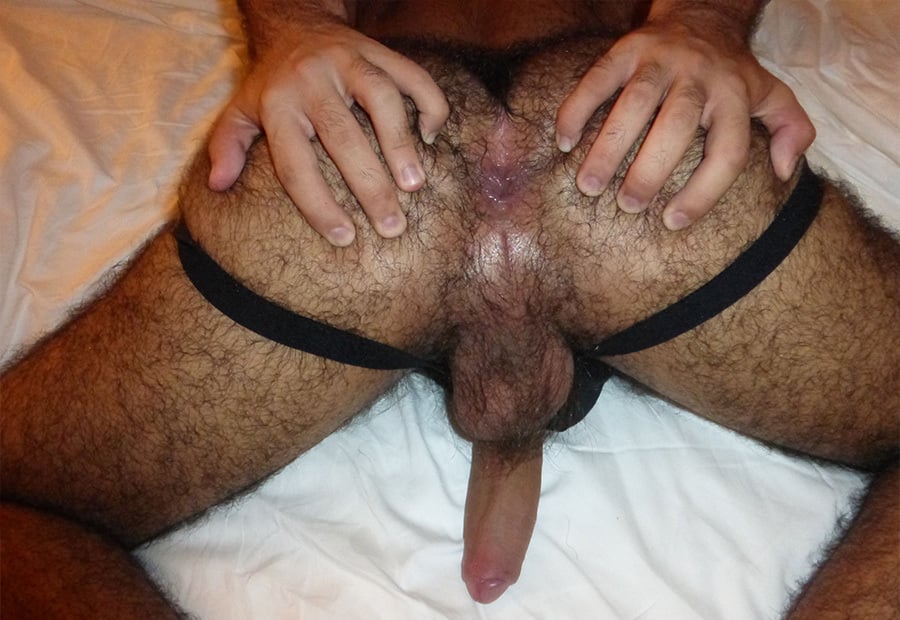 It's Little Wolf's twenty-first birthday and he's celebrating with Maverick Men Cole and Hunter. Cole said that Little Wolf could have anything he wanted for his birthday, so the cocky lad said that he wanted to top them both. Cole reneges on his promise and suggest they try something a little kinky instead. Little Wolf was into trying some blindfolded and handcuffed sex, so they got the party started.
Can I guy's ass ever been too hairy? I know there are a lot of chaetophobes out there, you know who you are, guys who think a bit of shoulder hair is gross, radical shavers and pluckers, or guys who think a man with twenty chest hairs is an unsightly beast. No, I'm not talking to you, in fact, I'm surprised you even made it past the picture of Little Wolf's very hairy butt to get in here. I do like hairy men. A lot. But even so, I don't want to spend an entire session picking hair out of my mouth and I certainly don't want to have to vacuum the bed after my date has gone home. But maybe Little Wolf's fat uncut cock would keep me from thinking too much about it.
Cole and Hunter wrap a blindfold around Little Wolf's head, then they flip him over on his stomach and cuff his hands behind his back. The furry bottom arches his ass in anticipation, and Cole or Hunter, I'm not sure which, thumbs his hole. Cole beats his long cock against Little Wolf's ass cheek to stiffen it up, then he slides inside. Hunter hands off the camera and takes his turn, leaning on Little Wolf's back while ramming his hole hard. And the two tops swap back and forth until this bottom wears them out.