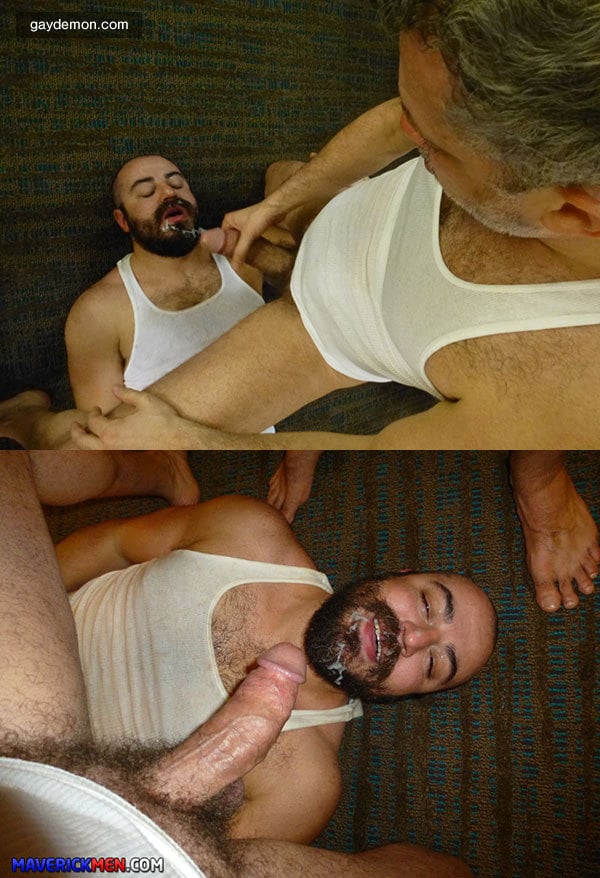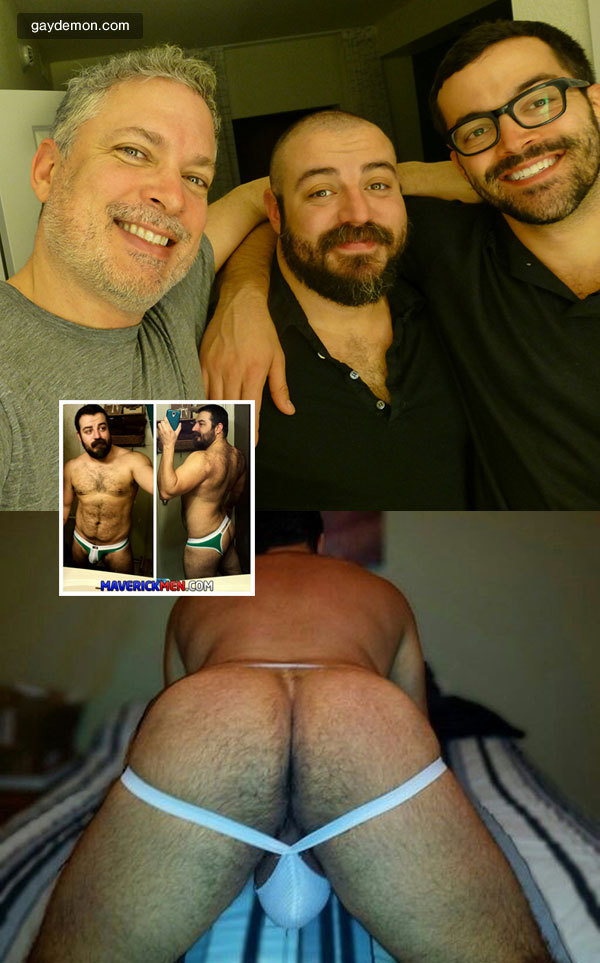 I've been pissed off with the Maverick Men for a long time. In case you don't know them, they're a real-life couple who film their sexcapades for their site. They're a couple of hot daddies, but all they ever do is fuck twinkies and 20-something-year-old boys. I've been waiting and waiting for them to fuck anything resembling a man. Oh well, it's not all about me right? A couple of men are allowed to fuck whomever they want.
Recently a big bearded man named Grumpy Bear hit them up with a selfie video where he said, "Hey Maverick Men, I think it's about time you guys fucked a real man." See, I'm not the only one. So Cole and Hunter invited Grumpy Bear to their hotel room to film a fuck video. Thank God. And I have to say that this scene is well worth the wait.
I'm guessing Grumpy Bear didn't fully realize how big Cole's dick is. Down on his knees and getting ready to swallow it, GB looks at Cole's monster and huffs, "Holy fuck!" It's almost as if he was thinking, "What have I gotten myself into?" But GB has been sucking dick for a lot of years -- not like those 19-year-old guys Cole has between his legs -- and Cole can't stop talking about how good GB's mouth feels while Hunter runs the camera.
When Cole is getting ready to fuck GB he hands him the bottle of lube. "Here, you do it. That way you can't say there's not enough lube. It's your responsibility." When Cole slides in, GB lets out a holler and I'm not sure if there isn't enough lube or Cole's dick is too big, or a little of both. It doesn't matter. Cole gives this bear a minute to get used to his bone and then he fucks his "real man" ass just like he asked for. Like I said, well worth the wait.