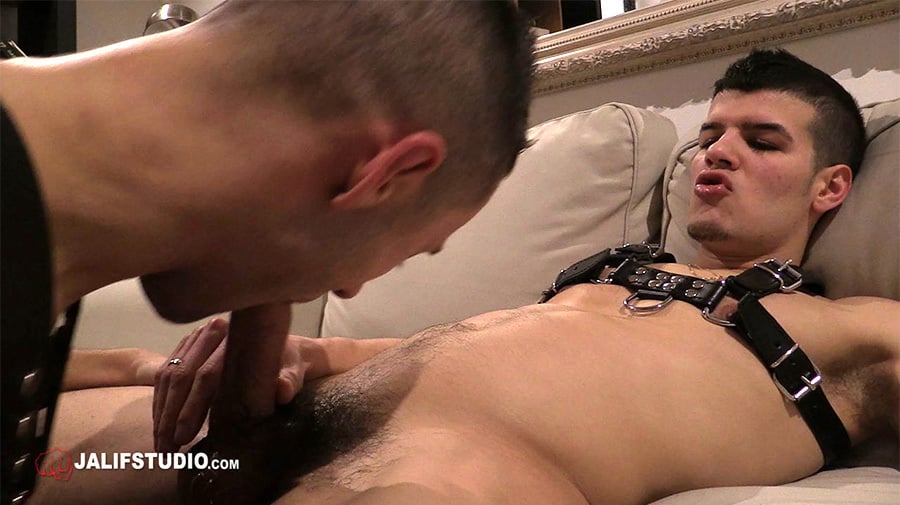 When this Jalif Studio video opens, Master boy Sergio Mutty is walking down the street and he finds a slave tied to a post on the sidewalk. He looks around for the lad's owner, but he's nowhere to be seen. If you're dumb enough to leave your slave unattended, then you don't deserve to have him, at least that's what Mutty thinks. He unleashes dog boy and leads him home.
This scene reminded me of an encounter I had at the baths a couple of weeks ago. This daddy was sitting on his bed with a pillow on the floor between his feet. I love sucking dick and he was flexing a nice bone while playing with his nipples, so I walked in and knelt between his legs. I like giving slow, teasing head, and this daddy was enjoying my mouth. A lot. When I reached up and tweaked his nipples, he lost his mind. He called me his cock boy, he thanked me for giving him such pleasure, and pleading with me not to stop. So, for the next 45 minutes or so, we played this daddy-boy game, talking dirty to each other. And while I was playing the boy, I was very much in charge. It's quite hot hearing a grown man beg. Have you ever just let your go and played outside of your comfort zone?
When Sergio gets Alberto Martin home, he sits on the couch and spreads his legs. Alberto gets to work licking Mutty's hairy cock, sucking on his balls, and finally, gulping deep. When Alberto isn't doing it quite right, Mutty slaps his face and barks at him in Spanish. I find not knowing what he's saying all the hornier. The young Master stands and holds Alberto's head and throat fucks him hard. Then he drags Alberto over to the stairs and bends over him stuffing his big cock in hard. He drills his dog boy exceedingly hard, but Alberto likes it rough.