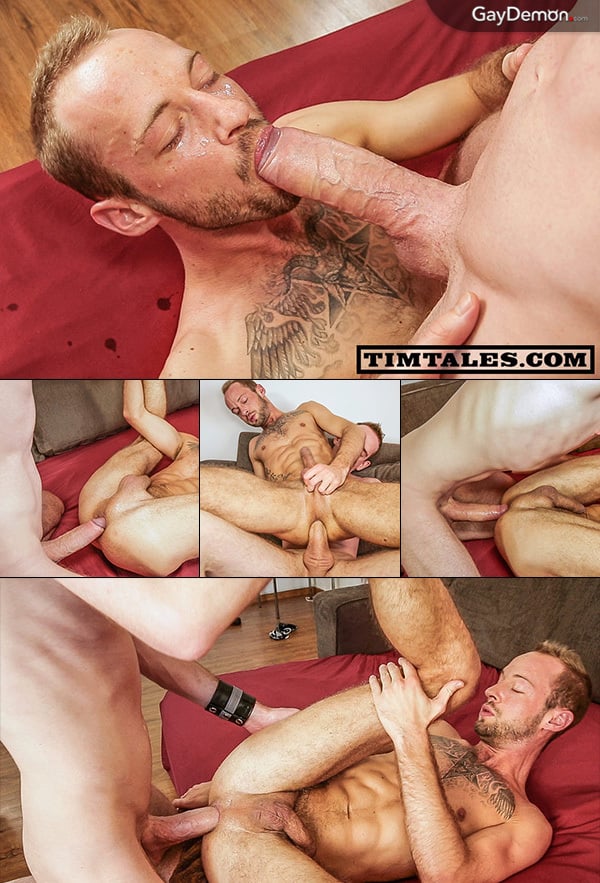 When it comes to big dicks, you can't ever go wrong with Tim Tales. Site owner Tim Kruger's fat, 10-inch monster cock does a lot of hole filling over there. But Kruger isn't afraid to share the spotlight with other hugely-hung top men. This week Kruger introduces us to a couple of German guys who are filming their first scene for the site.
There weren't very many pictures of Lorenz's face, all of the pictures I could use in this post focused on the German's massive cock sliding into Nicky's hole. But if you head over to Tim Tales and watch the preview video, you'll see that Lorenz is a skinny, geeky-looking guy, and kind of cute. But his dick is so long, thick, and beautiful that his face doesn't matter all that much, you know getting a pounding from a dick like that is going to feel great and get you walking funny for a couple of days.
Nicky tries swallowing Lorenz's humongous tool in the opening sequence, but frankly, it's far too challenging. He eventually just assumes the position and this German top starts burying his bone in the Nicky's ass. It takes some doing, but Lorenz slowly punches open Nicky's hole until he's finally able to drill him balls deep with long, slow strokes. And in the end Nicky is rewarded with a mouthful of spunk, and Lorenz dumps a massive load down his throat. This big dick isn't just for show!