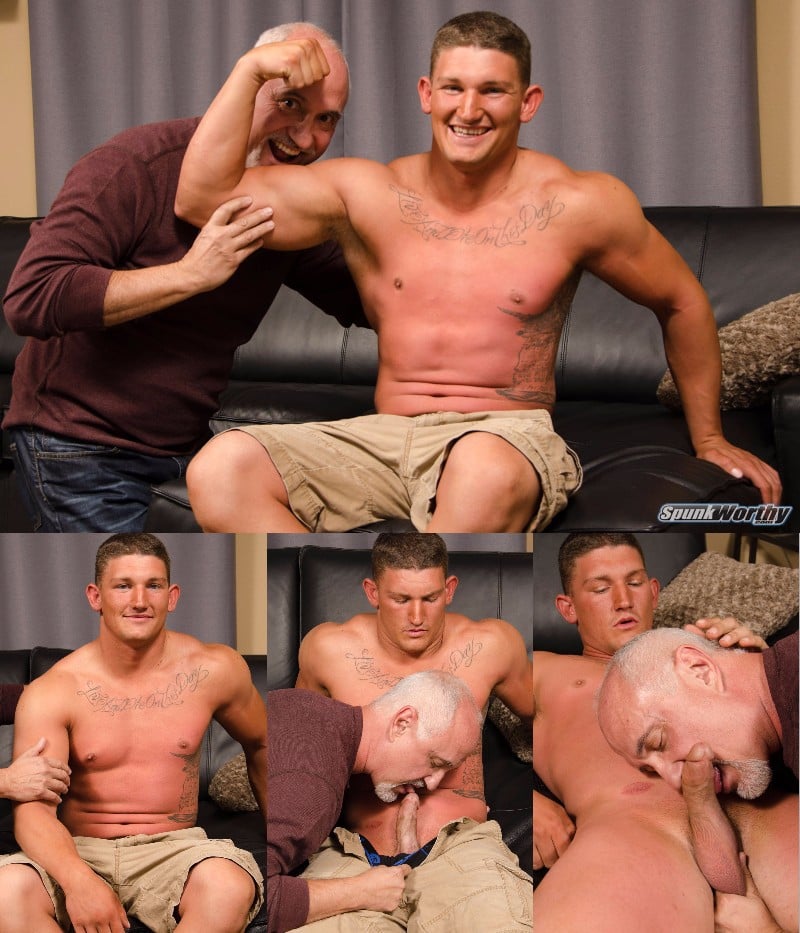 Watch this marine get his first gay blowjob
Avery is a military stud who has been thinking about getting into porn, but he sure is taking his time about it. He did his first jack-off scene at Spunkworthy in October, then he got a handjob from the site owner Jason in November. Avery wasn't sure about going all the way with a blowjob, but Jason ponied up enough cash to make it too hard for the straight lad to resist.
I did a double take when I opened the pack of pictures for this Spunkworthy scene: I recognized handsome hunk Avery from his other scenes on the site, but seeing Jake Cruise confused me. But it turns out that Jake Cruise and Spunkworthy Jason are friends and Jason decided to let Jake do the honours. What a nice friend. This 210-pound marine hunk is too fucking hot, and look at his big nuts, I wouldn't be inclined to share his load of jizz with even my best friend.
Avery tries his best to pretend as though he's not enjoying Jake's mouth, but Jake is the godfather of blowing straight men, he's been doing it for a lot of years and he's good at it. Avery eventually relaxes and puts his hand on Jake's head to guide him deeper. Finally, Jake lies back on the sofa and Avery straddles his chest and face fucks him until he's really to unload those nuts. Jake opens his mouth and Avery blows his wad all over Jake's tongue.