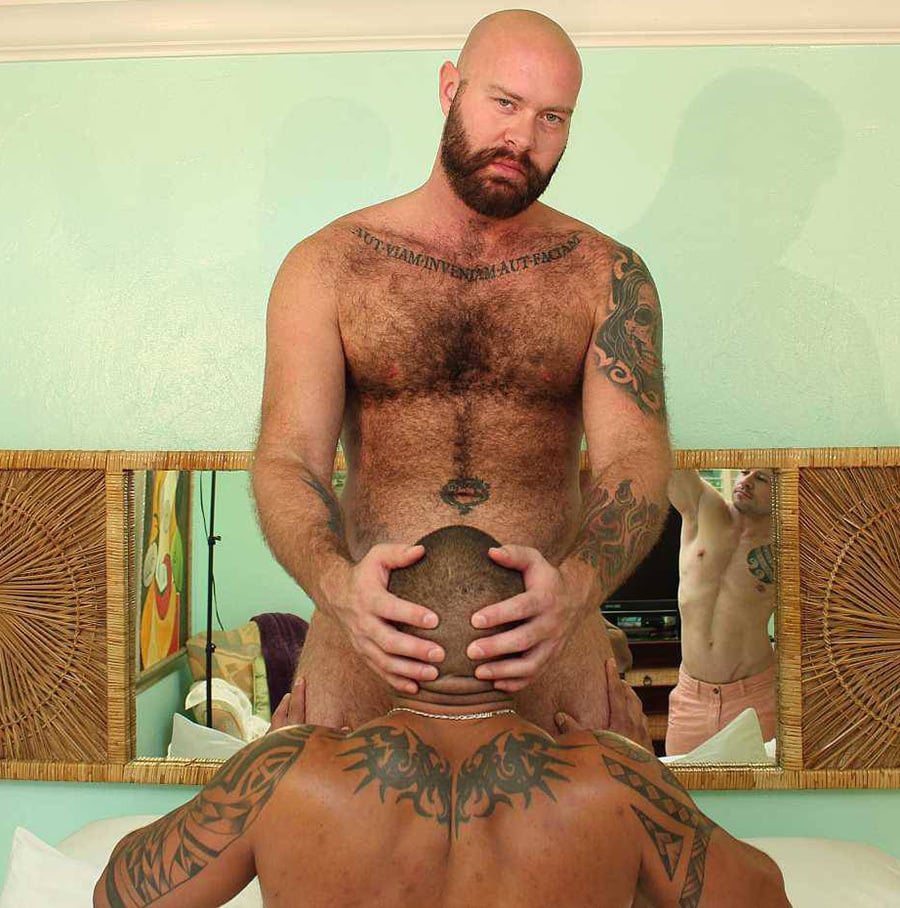 When this scene opens, Luke Harrington and Travis Saint are wrapped in each other's arms kissing. If you like watching men necking, you'll love these two. Travis rubs Luke's bald head while they kiss and Luke gently strokes Travis' brown uncut cock, and inside of a minute, Travis is rock hard. Luke slides down on sucks Travis' dick, then he crawls on top and they blow each other 69 before Luke flips Travis over on his knees and eats his hole.
Butt fans will love the rimming sequence because Travis is down on all fours with his head buried in the pillow and his firm round cheeks are arched high in the air. Luke's kneeling on the floor with his beard buried in Travis' ass. It's a beautiful sight. Travis rocks gently back of Luke's face and moans. Luke stands and he beats his rock-hard dick on Travis' butt cheek, then teasingly slides it through his ass crack. He rubs his flared helmet over Travis' rosebud, then spanks it with his cock. He does this repeatedly and gets Travis squirming. He finally gives Travis what he wants and buries his big dick deep inside with one long, slow push.
My favourite sequence has Travis on his belly and Luke crawls on top. With his arms wrapped over Travis' he thrusts forcefully. Luke holds Travis' hands and nuzzles his beard against the bottom's head. The camera moves behind them so we get a horny view of Luke's thick thighs wrapped over Travis' legs as he pumps his furry ass into the bottom. Travis groans loudly, he's loving Luke's cock. And I'm thoroughly enjoying watching Luke. He's a skilled and attentive top, the kind that only comes around every once in a while. He's my new favourite, and while he's not new, I just discover that he had five other videos at Breed Me Raw, so I'm looking forward to catching up.