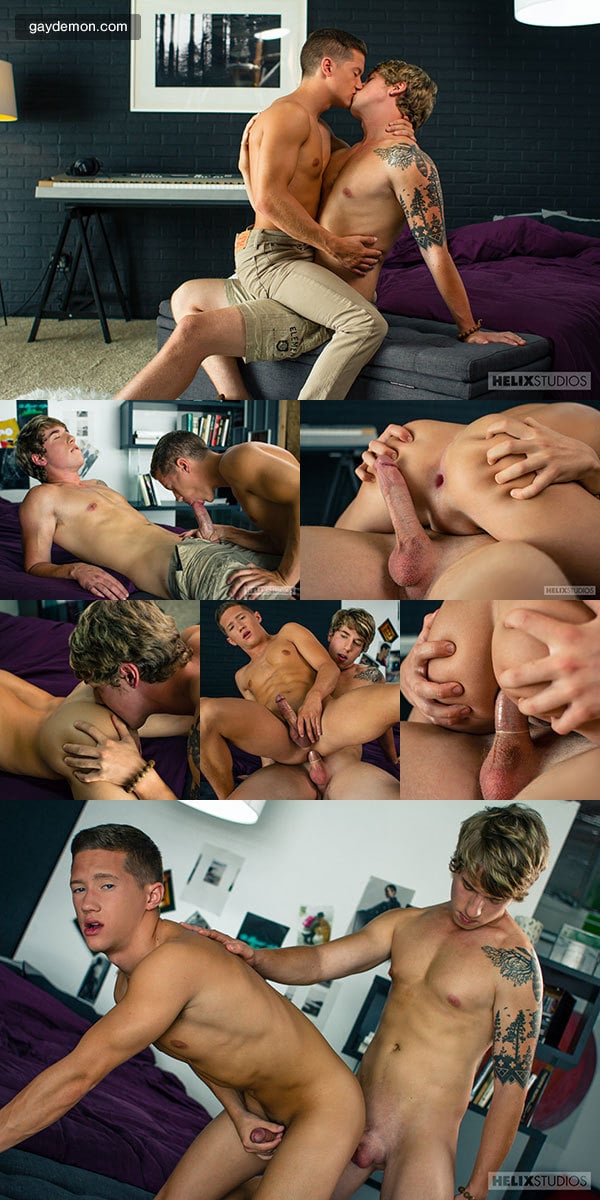 College guy Tyler Hill is single again after breaking up with his boyfriend and he's out and about, on the prowl, looking for someone cute and hot to pick up and have some Rebound Sex with - he spies Helix Studios model and teen jock Lukas Grande walking along the street, the guys make eye contact, the attraction is instant and mutual and Tyler invites Lukas to sit down and chat with him while he finishes his drink at a roadside café.
The two horny college lads head back to Tyler's dorm room and start making out on his bed. Tyler sits himself on Lukas's lap and, as they kiss passionately, Lukas's hands roam all over Tyler's body and the way Tyler's jeans mould around his butt cheeks makes Lukas's cock get hard and proud. They start to undress and Lukas nibbles on Tyler's nipples, then Tyler goes down and starts sucking on Lukas's fat cock.
Before long both guys are totally naked and Lukas gets Tyler to kneel on the bed so that he can rim his tight arsehole, he licks and kisses and fingers it, getting it slick and moist, ready for his rock-hard cock. He rubbers up and pushes his cock into Tyler's hole and starts fucking in doggie style, the guys kissing and fucking in rhythmic unison. Then they switch it up, and Tyler sits his butt down onto Lukas's lap and rides that hard cock while jacking his own boner. Then he turns around to face Lukas and continues to bounce up and down until both guys are ready to explode their cum loads all over Lukas's chest. Then, to top it off, in some gentle after-sex play, Lukas toys with Tyler's arsehole, making him forget all about the old boyfriend - and we are left to wonder - has a new romance blossomed?