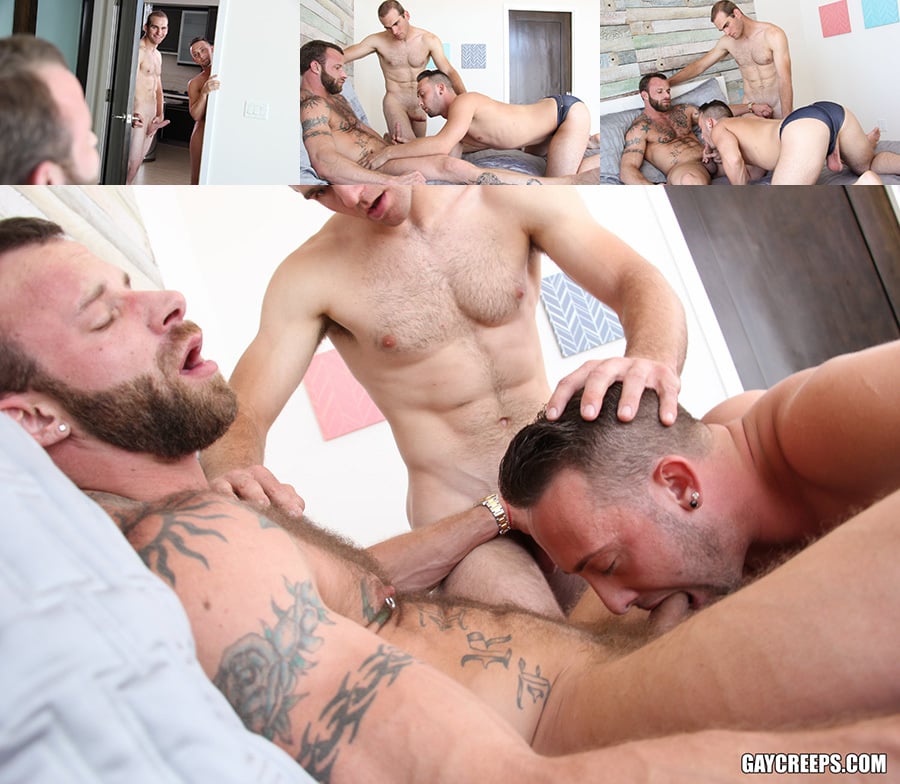 Derek Parker and Jonah Marx are back in the second episode of Let Daddy Help and Jonah has Derek hidden away in the bedroom, he's going to surprise his boyfriend Billie Ramos with a threeway, which until now, has remained a fantasy. Jonah and Billie mess around on the couch, then when they're sufficiently horny, they head to the bedroom where they find Derek jacking his dick. Billie likes what he sees and he jumps on daddy's dick.
If you remember the first episode of Let Daddy Help, Derek happens upon his stepson Kory Houston getting no-so-get head from Jonah, so he steps in to teach Jonah how to suck dick. I'm afraid Billie Ramos could use a blowjob tutorial -- he only knows how to give hooker head. In case you don't know, hooker head involves sloshing a guy's cock head around your mouth while stroking his shaft, so he's really getting a handjob with some lip action. A bath house hooker taught me this one eons ago when I was doing research for an article. True story. He told me that when working an eight-hour shift at the baths, giving hooker head saved wear and tear on his mouth and made the customers pop faster so he could make more money.
Derek and Jonah dive into Billie's ass with their tongues, Derek first while Jonah gets his dick sucked, then Jonah has a go. Billie sits on Derek's ass and Jonah mostly just stands around rubbing his boyfriend's chest and watching, which is fine I guess, I like watching my husband enjoying another man's cock too. But I just wasn't feeling a lot of chemistry with this scene. After getting spitting roasted, Billie lies back a shoots a huge load all over himself (he does that very well), but Derek's two-stage cumshot is the scene stealer. He's aiming for Billie's nuts, but most of it flies all over Billie's leg. It was an average kind of cumshot, nothing to get too excited about, except just when I thought he was done cumming, the real cumshot happens -- five healthy-size gobs of white size plop down on Billie's thigh. I love surprise endings.