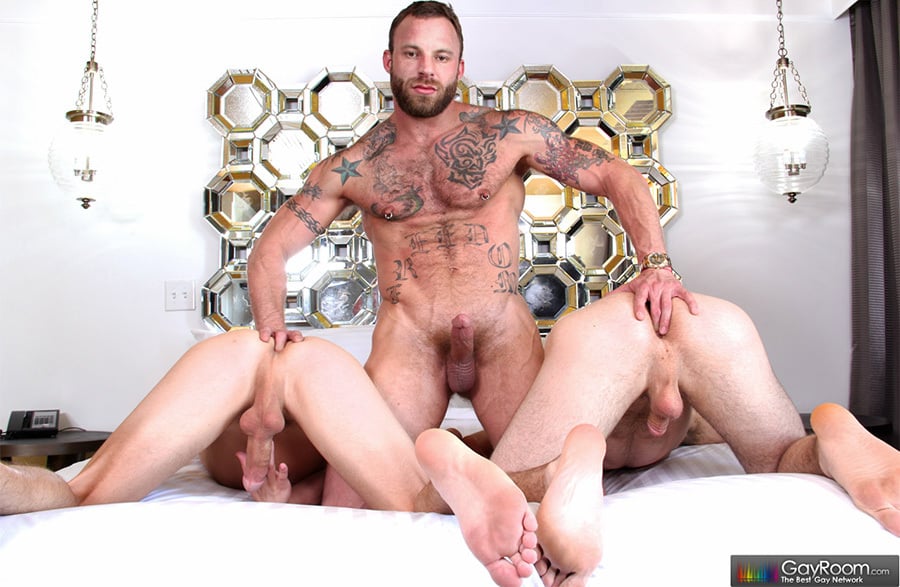 It's that time of week again, it's time for a stepdad somewhere in Pornland barging in on his stepson's blowjob or spying on him in the shower or finding porn on his laptop, it doesn't matter, stepfathers having sex with their stepsons is the favourite theme right now. This week Derek Parker is the dirty dad over at Gay Room and he's spying on his stepson, Kory Houston, getting head from his buddy Jonah Marx. Come inside and see what happens. You know what happens, but come inside anyway.
Kory finally notices his stepdad bone in hand and watching from behind the beaded curtains. "Whoa!" Kory says. "What are you doing?" Parker asks. "Getting my dick sucked," Kory retorts. Parker says that isn't how a guy sucks cock and offers to show these boys how it's done. And does he ever. He orders Jonah to turn around so he's facing the back of the sofa and Parker grabs his head and starts throat fucking him. Derek chokes Jonah and makes him gag; he pumps Jonah's throat so forcefully that he makes the cocksucker cry -- a tear literally streaks down his cheek -- and spit is dripping everywhere.
Having seen how his stepfather gets his dick sucked, Kory heads around and gives Jonah another chance to suck his dick. But the right way this time. He rams his buddy's head up and down on his prick making him gulp and sputter. Meanwhile, Derek eats Jonah's hole and gets it good and wet. Next he's going to show his stepson how to fuck ass. And Jonah is in for a rough ride.