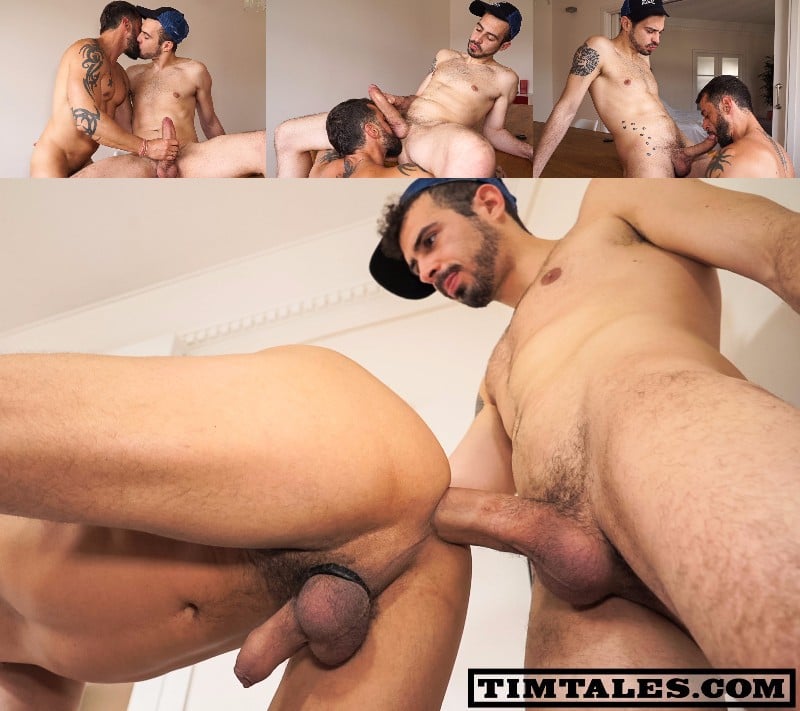 We should be seeing a lot more of Koldo Goran and his giant penis. This week he's on Tim Tales stuffing David Avila's butt. And this is a notable scene for a couple of reasons, well, aside from Koldo'a humongous dick. This is Goran's first time on Tim Tales, but I'm sure it won't be his last, and with this scene, David Avila has returned to porn filming after a long break.
Koldo Goran got his start on Fuckermate, a Spanish porn site where he's fucked three lucky bottoms with his huge dick. His site stats say his dick is 23 cm long. The metric system is still lost on me even though it's the standard here in Canada, but I had to grab my ruler and see how long 23 cm is. It's nine inches. Impressive, but doesn't 23 cm sound so much bigger? Either way, it's going in David Avila's ass.
Tim Tales invited Koldo Goran to join them for a fuck scene on Tim Kruger's wooden dining room table. (That table sure does see a lot of action, so if you're ever invited over to Kruger's for dinner, perhaps suggest eating out on the balcony, say something like, "It's such a nice evening, why don't we eat outside." Come to think of it, Kruger has filmed a lot of porn out there too.) Avila is a power bottom who is used to taking giant cocks, but when Koldo slides in and keeps pushing balls deep, even Avila winces loudly. But it's all uphill from there, and watching Koldo stuffing is hole got me thinking that maybe I need to head to the baths later and find a 23-cm penis of my own.