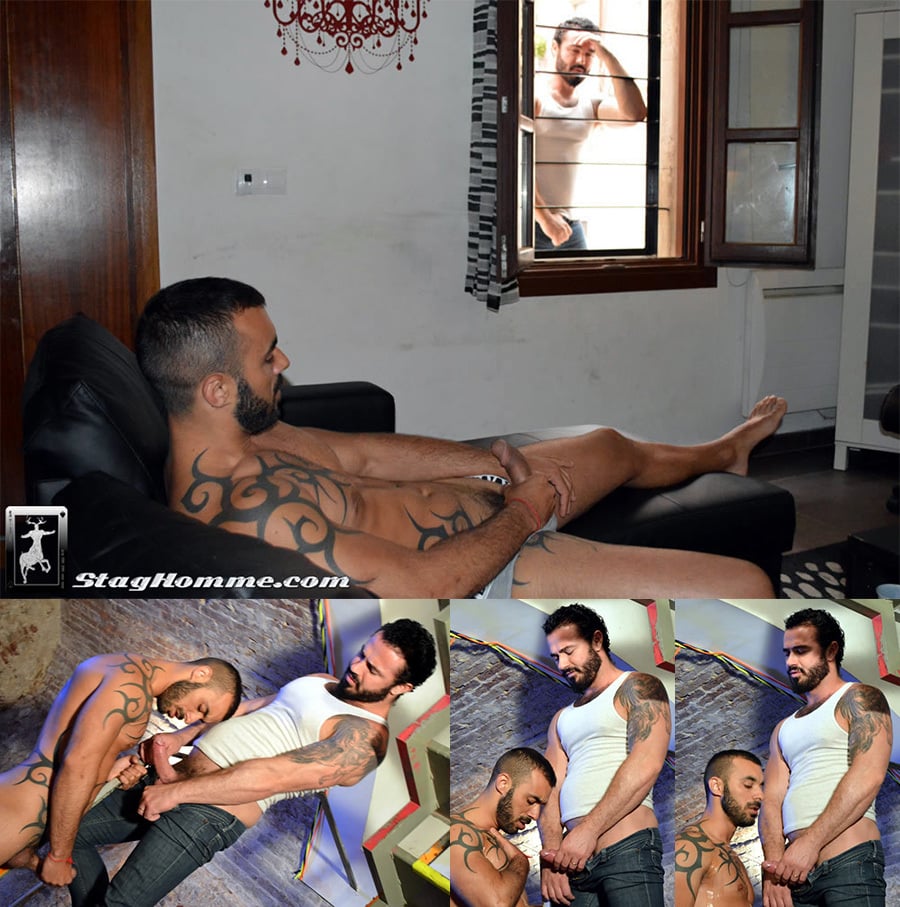 When this Stag Homme video opens, Xavi Duran is sitting back on his couch, minding his own business watching some porn and having a wank. Jessy Ares walks by the window catches a glimpse of the naked man, then he boldly rubs his crotch and watches for a minute or so. Xavi motions the stranger to come in, and when Jessy descends the spiral staircase, Xavi is on his knees waiting to suck the handsome man's cock. But Ares has to piss, so after a couple of gulps of his big dick, Zavi offers his chest as a urinal.
Oh hello, you made it inside. I guess a little piss play doesn't gross you out. Have you tried it? At the baths one night, this naked dude approached me in the hall, he tweaked my nipple and asked, "Are you into piss?" He was hot and I was high enough, so I said, "I don't know, I've never tried it." I pulled off my shirt and underwear, knelt on the floor and opened my mouth. I don't know how long it went on, but I remember thinking, "Okay, I don't hate this, but I'll not be in a hurry to try it again." But hey, a guy has to try these things, right? Without the experience I could have gone through life being a giant piss queen without ever knowing it. Now I know. So how about you? Do you have a water sports story?
Once Jessy unloads his bladder, Xavi goes back to sucking his banana-curved dick. Standing on the stairs, Jessy wraps his forearm around the back of the cocksucker's head and thrusts into his mouth. Then Xavi sits on the stairs and smokes a cigarette while Jessy sucks his meaty dick. Jessy takes a drag on the cigarette and blows smoke on Xavi's cock. (I quit smoking a year and a half ago, so I jumped through this bit rather quickly.) Then Jessy bends Xavi over the iron stairs and fucks him. And just a parting note: while the pictures suggest the men are fucking bareback, they don't, although Xavi does suck off Jessy and eat his cum.