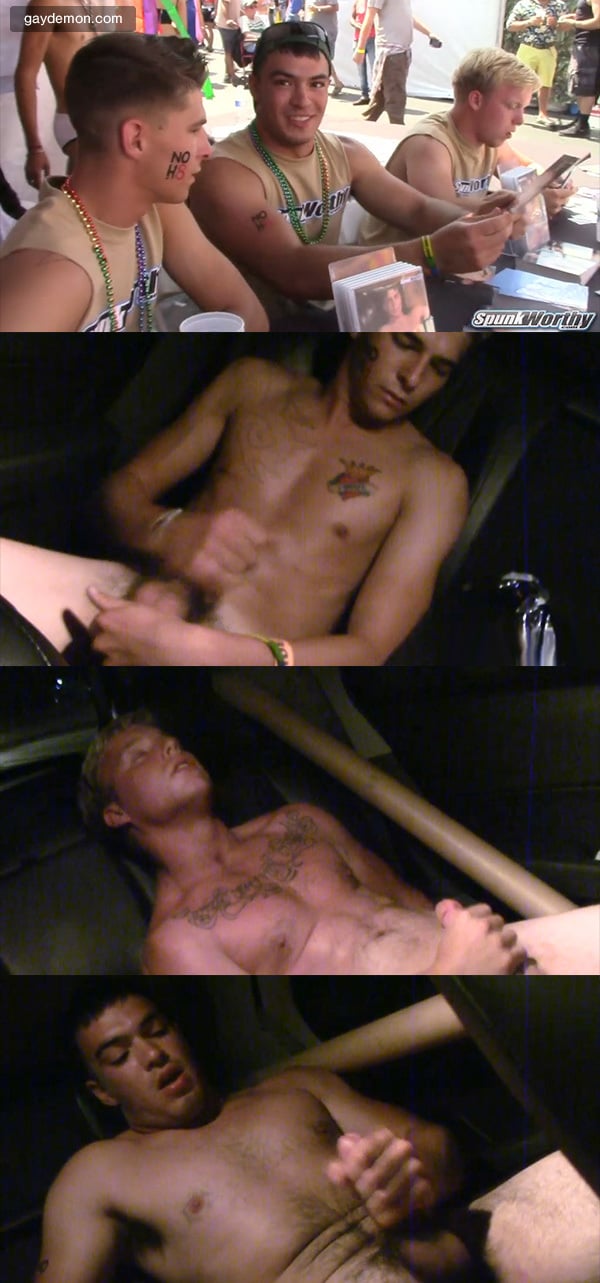 What do you think happens on the drive home from LA Pride when you have three horny guys in the back seat? Over the June 8 weekend, Spunk Worthy took three of their guys -- Alex, Nevin and Hugh -- and headed off to LA Pride to meet the fans. The guys manned the Spunk Worthy booth, signed autographs and talked to fans, and then got into a game of strip beer pong for a crowd of onlookers.
So before I go into what happened on the ride home, let me tell you how I came by this story. I blogged about Nevin, a beefy ex-marine who had just got his first hand job at Spunk Worthy, and I emailed the site owner Jason to ask if Nevin is coming back for a blowjob. Jason confirmed that Nevin is scheduled for a head session and added, "He and two of his buddies were supposed to come over tomorrow to shoot, but I stupidly forgot that it's Father's Day so we had to postpone it." Hmmm ... two buddies ... that sounds like a threeway!
Then Jason told me that on the way way to San Diego Alex, Nevin and Hugh jacked off in the back seat of the car. I was pretty sure that Jason couldn't drive and hold a camera at the same time (you shouldn't anyway) but I asked him if he filmed it. And it turns out that he manned the camera in the front seat and the guys took turns driving and pounding their dicks in the back seat.
That video will be up on the site soon, but in the meantime all three guys have hand job videos on Spunkworthy. And Nevin, that dark-haired chunk of beef, has a jack-off video and some bonus shower footage.