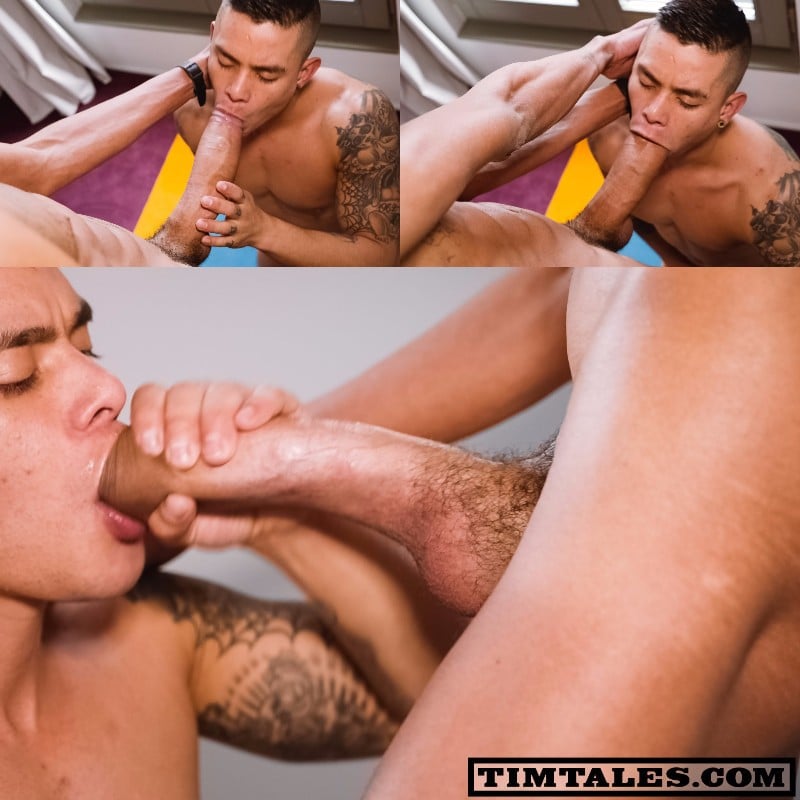 See Eduardo Picasso's 12-Inch Cock in Two Videos
Eduardo Picasso and his foot-long cock are back at Tim Tales in his second time stretching out a brave bottom. Muscle boy Ian Torres has signed on to try his best at swallowing "the biggest cock I've ever had."
I'm definitely not a size queen. I've enjoyed all sizes of dicks and I actually prefer a comfortably-average cock, and if it's on the thick side, all the better. Every now and again I enjoy the challenge of taking a bigger cock -- a healthy niner -- if the top is patient. However, there really is such a thing as a cock that's too big. Please don't revoke my card in Gaysville, I'm sure I'm not the only citizen uttering such blasphemy.
Take a look at the preview clip of Ian Torres only managing the suck the first couple of inches of Eduardo's super fat meat. I don't even think he can swallow a third of it. I'm not criticizing, I'm just stating facts. Then watch Eduardo sliding into the lad doggy style. Yes, a few times he plunges in nearly balls deep, but for most of this fuck Eduardo is sliding only half of his dick in and out of Torres' stretched out hole. With so few bottoms who could actually take a 12-inch dick, it just seems like such a waste -- or a cruel joke.