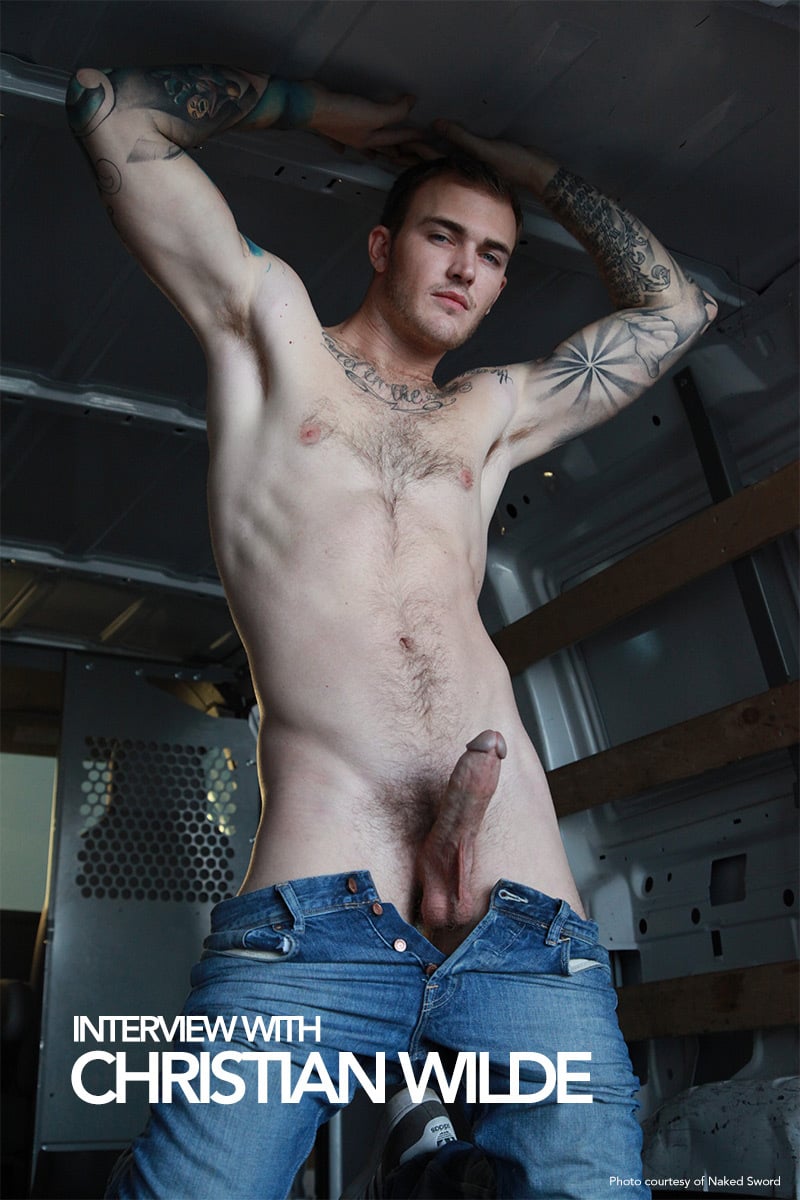 To celebrate Christian Wilde Film Festival this month at Naked Sword, we caught up with the amazingly kinky, adventurous and loveable star and delve into his likes, experiences and ambitions.
Hey Christian, thanks for joining us to do this interview. It's a great privilege to be able to talk to you and ask you some questions. June is Christian Wilde Film Festival at Naked Sword, how does it feel to have a month dedicated to your career?
Im honored. I love Naked Sword and they've always been so good to me. Its a really sweet thing to do.
You're full of swagger and that comes across so beautifully in your videos. Is this your natural way? Are you naturally a dominant kinda guy with a sexy attitude?
I'm not sure to be honest haha. I just try to be myself and act the way I feel is true to me. If that comes out as swagger and sexy, I'm pretty stoked on that. And I am naturally a dominant guy but I think I'm way more shy in day to day life.
I like porn in its amateur form. I like to see real sex over the scripted high budget stuff, so I'd probably just like to take a camera into a bedroom and film a couple of hot people getting down with the dirty.
I'm really keen to know what turns you on most? You've done a massive range of genres of porn, from jocks fucking to full­on fetish gang bangs. What's your preference?
I like atitude. I like someone who enjoys sex and is kind and fun and laid back and humble. If im fucking someone like that it doesnt really matter what the genre is.
How does your porn sex life compare to your personal sex life? What part of what you do is acting?
I'm way more lazy lol. No, I mean porn can be so staged at times and theres so many different factors that can extinguish the fire in a scene so I guess the difference between scenes is that I don't pride myself for being able to make it seem like I'm really turned on in my personal sex life.
Let's talk a bit about how you got into the porn industry. How did you start out and what was behind your decision to become a porn star?
I was young and needed money. I'd never really thought about porn as an option but I was 18 and saw an ad on Craigslist for a private guy who wanted to make a home video of a guy jacking off for $300, which was way more money than I had, so I did it. Then he kindly asked if he could touch my cock and I kindly asked, "Are you going to pay me?" He gave me an extra $200 and I walked away with more than most of my friends were making in a week. So after that I was an escort for about a year and a half before I met the owner of a studio and got into porn. But dont let me fool you, the money was the motivator. Now I'm so grateful for getting into sex work because it helped me discover who I really am.
You're in at least 32 movies on Naked Sword, from all kinds of studios from Hot House to Kink Men, and countless individual scenes! So I'm interested to know which of those movies you made sticks out as your favourite and why?
I'd say the two that stick out aren't individual scenes, but the scenes I did for "Wilde Road" for Naked Sword, and my scenes at Kink Men. Wilde Road was the first real creative acting roll I played and working with Pam and Naked Sword was such a blast and so fulfilling I just beam when I talk about it. And Kink Men is a whole other animal. There I get to unleash so many things that otherwise I wouldn't have been able to. It makes me grow and change when I do those scenes and I love that. BDSM can do that to a person.
What type of guy are you attracted to? Do you have a specific preference and what qualities does a guy need to have to turn your head?
I dont really have a specific type. But what turns my head are pretty eyes, pretty smiles, tall guys, big butts, flirty guys (not overly though), and the occasional big dick bottom can do it.
Let's get a bit further into what motivates you in your porn career. Is there an end goal? Do you want to achieve something specific, as we already know you've one a Grabby Award for Best Actor for your appearance in "Wilde Road".
Nah, not really. I'm just riding this wave. I've seen too much of the industry and its beautiful quirks to want to continue on, so I'd like to get out at some point. But until I figure out what it is that thing would be, I love making the pornos.
What's your experience of being on set? I can't imagine you're ever nervous about shooting a movie? How do you prepare for your role and is there ever any need for rehearsals or is it more a case of put two (or more) guys together and roll the cameras? What happens on set we don't see?
I've had a wide variety of experiences. I don't really get nervous anymore, no, but my favorite ones are when we all have a good time. When the atmosphere is relaxed and playful it seems to make the sex hotter and more natural. But there are some serious dickheads behind the cameras as well as crews that have no idea what the fuck they're doing. However, on the flip side, there are some serious angels in this industry who are pioneers and revolutionaries who are fantastic to work with. I think that's what fans and members don't see, is the people that make or break a scene behind the camera.
When you're not making porn how do you spend your time? Do you have any favourite pastimes or things you're passionate about?
I'm a big chiller. I like relaxing in the sun and drinking iced coffee. I'm also passionate about my family. I love spending as much time as possible with them. They're my everything. I'm also really into motorcycles big time. I love going on trips with my friends or my dad and feeling like a badass rolling down the road, haha.
I have to admit, it's really hard not to have a crush on you. I imagine you get hassled a lot if you're out and about. Do you have any experiences of super fans or anything amusing to share?
I've had a guy tell me (over email) he was going to get my name tattooed, which is pretty dedicated. But nothing overly stalkerish. I've had some annoying guys but thats always to be expected and pretty easy to handle. The more rewarding side of fans is when they email or comment and tell me what I do has helped them out in life some way. Thats super fulfilling and awesome.
You're very often shooting porn in leather, rubber or some kind of fetish clothing. What's your favourite gear?
I'd probably say latex. Its super somfortable and the feel on your body cant help but make you horny.
Who is your favourite porn star and why? What makes them so great in your eyes?
I'd have to say a guy by the name of Lance Hart. Hes a fetish performer and producer and the guy is just rad. He does everything under the sun. Boys, girls, TS, top, bottom, dom, sub... and all the while he stays true to who he is and what gets him off. After seeing all the pretending that happens in porn its so refreshing to see someone doing that, while at the same time being a spearhead in the porn industry and breaking down barriers. Wolf Hudson is very similar in that way too.
Apart from your own­-made movies, have you ever directed a porn film? Or what would be the scenario and who would you cast if you were to direct your own professional top-budget movie? You can cast yourself too!
Hmmm... I'm not sure. I like porn in its amateur form. I like to see real sex over the scripted high budget stuff, so I'd probably just like to take a camera into a bedroom and film a couple of hot people getting down with the dirty.
I notice you have a power tools on your Amazon Wishlist. Do you intend to convert them into wonderful sex toys!?
Haha! Thats not a bad idea but unfortunately no, I need them for their real purpose.
Thanks again for chatting with me today. It's been fun! Do you have a message for your fans? And can you let us know how it's best to keep up with you?
Thanks all for being a fan and I love you more than you can know. Follow me on Twitter @christianwildex, check out my blog at christianwildeblog.blogspot.com and visit my website at christianwildexxx.com