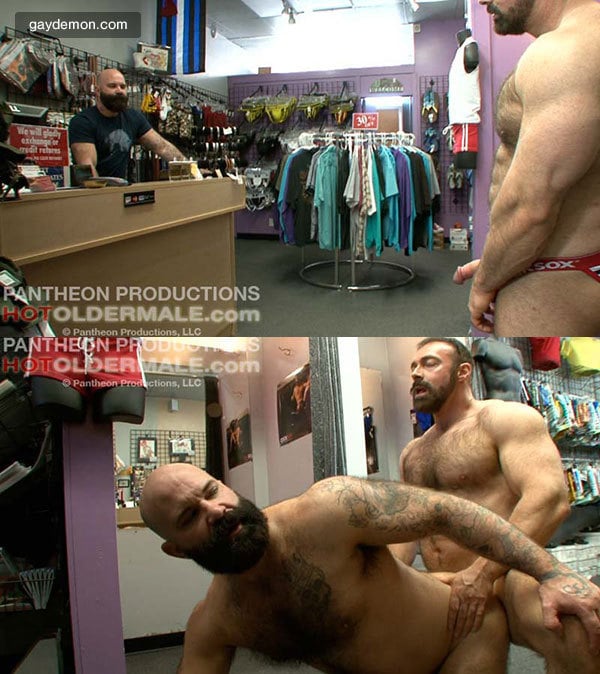 If you work in a men's underwear store, you've probably had this fantasy about one of your customers. Hairy hunk Brad Kalvo is checking out the underwear and bathing suits while the store clerk is checking him out. Kalvo knows he's being watched. He's a head turner, he's used to it. And he works it with shy glances, nods, and smirks. Oh my. I'd be locking that store door and throwing up the "Gone for Lunch" sign.
But it's not all about Brad. Victor West is a sexy hunk of man and I can see why Brad wants to get something happening here. This bearded and furry daddy popped up in a Hot Older Male picture gallery in 2012 and then headed back to Oklahoma. I watched and waited, but no video ever came. Until now. But when I first saw West in the promo pics for this scene I thought, "Who is that? I know him." And when I heading inside HOM and saw his 2012 gallery -- OH HIM! FINALLY!
Was he worth the wait? Most assuredly. Not only is Victor a handsome man, but he sure can suck dick. He gets down on his knees and swallows Kalvo's dick. He doesn't need any help or instruction, no back-of-the-head nudges to go faster or deeper, Victor knows how to take care of a man's cock. Brad just stands there in awe of what's happening to his dick. And watching that black beard bobbing on Kalvo's meat, well, my glass-top desk quickly became very messy and I haven't even gotten to the fucking yet. So with my last assignment of the week done, I'm off to watch these two hairy hunks fuck.