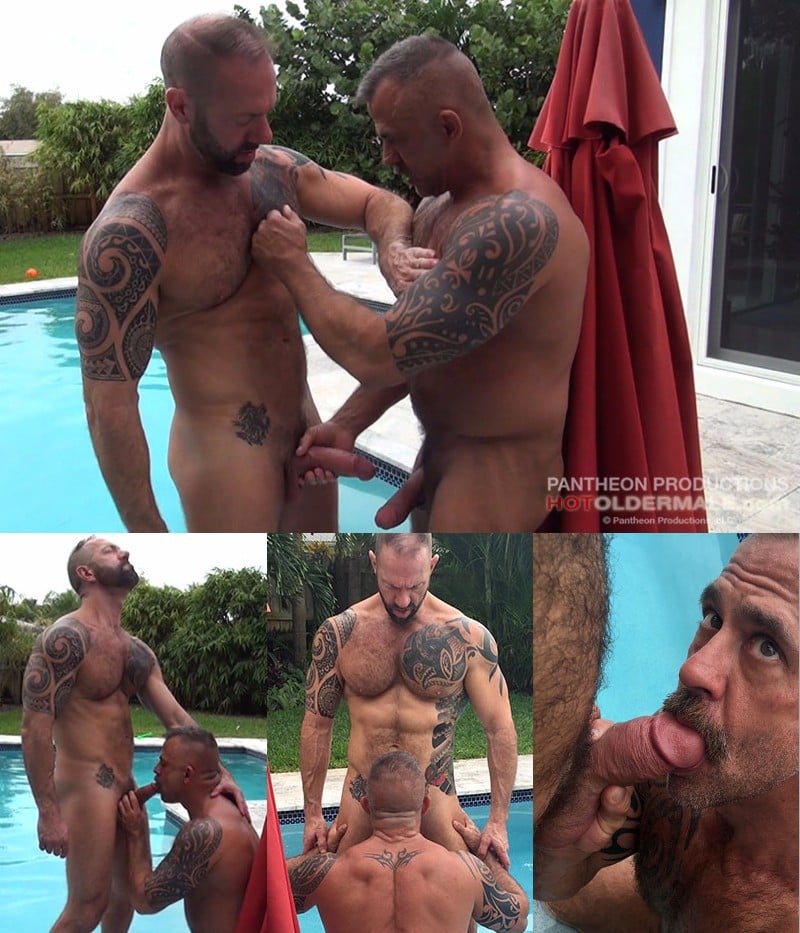 Real-life lovers Jon Galt and Vic Rocco have done a few scenes together since they both returned to Pornland last May. But this outdoor fuck session is their first time on Hot Older Male, and it's a raw fuck to boot. It's also the first time I've seen them in a scene since they got married last May.
The men are standing on a ledge in the pool, ankle deep in water and stroking each other, then Jon kneels first and swallows his lover's thick cock. Every time I see Rocco's dick, it's girth has slipped out of my memory, so I gasp out loud all over again. The man is blessed with a beautiful cock and Galt is the lucky son of bitch who gets to swallow it whenever he wants. And he does it so well, too.
Galt bends over and holds onto the red umbrella while his husband eats and fingers his hole. They head for the lounge chair on the grass and Vic pushes inside his lover's hole. It's a hot fuck, but there's one sequence that gets me going good: Vic pulls all the way out then holds his meat and Jon backs on to it. They do this repeatedly and Galt moans every time Vic buries his fat meat all the way inside. I love take-charge bottoms. Vic continues pounding Jon for a few more minutes, then they swap and it's Vic turns to bend over the lounge chair.