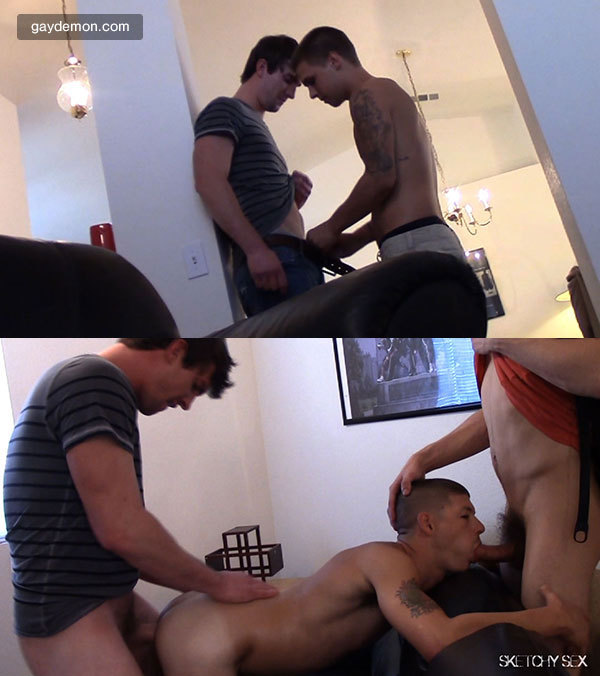 Did you have a wild period? Every time I see one of these Sketchy Sex videos it makes me think about my wild days. You know, partying all weekend, going out clubbing and bringing guys home in the wee hours of the morning, and when you're done with them you jump online looking for more hook-ups. Sometimes I miss those times.
Nate has been at it for 20 hours and he's coming to the end of this cock binge. But he's got two guys left to take care of. He's hunched over the sofa and a big tall stud is drilling him for behind. (That's actually Bryan Cavallo, but Sketchy Sex never really tells us the guys names.) Another stud is feeding Nate's throat. He just arrived and dropped his pants, but didn't bother taking his nap sack off his back -- I guess he's not staying long.
Bryan slams his huge dick into Nate's ass and the hungry bottom is grunting, "Cum in me," over and over. Finally Bryan pulls out and sprays Nate's hole, then rams back in for some frothy milk shake making. When he's finally done, Bryan slaps Nate's hole and turns it over to the other dude, who has the darkest and hairiest pubes I've seen in a long time. And while this guy gets down to fucking Nate's ass, we see Bryan put on his jeans and walk out the door. Dirty boy!