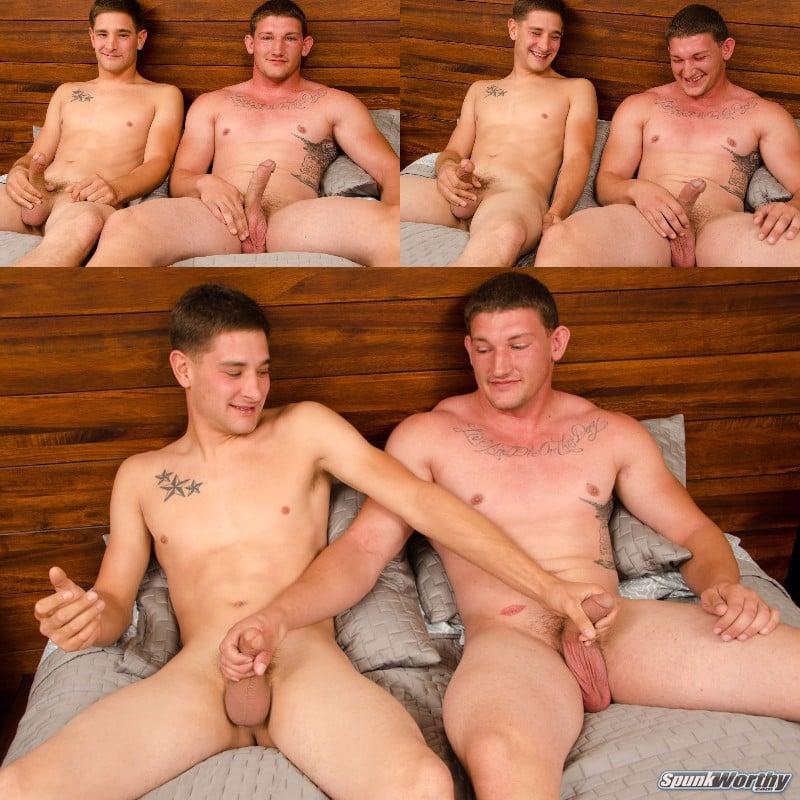 Watch Straight Guys Get Off at Spunkworthy
More and more we're seeing guy-on-guy action at Spunkworthy. I mean, aside from the regular handjob and bjowjob scenes we have been seeing there for a long time. Now, about once a month or so, site owner Jason has been managing to get a couple of guys together to explore anal sex. Avery and Chase are the latest.
"Does your girlfriend know you're filming this scene today?" site owner Jason asks Avery. "No. Not this one," he answers. Then Chase says, "She thinks I'm working on the car." Hmmm ... it sounds like the girlfriends know their boys are doing gay porn, so I hope Avery and Chase spilled the beans before this scene hit Spunkworthy.
But Chase's girlfriend might like this one, apparently she's already used a strap-on to fuck him recently. The guys start off jacking off and stroking each other, they hadn't planned on doing any fucking when they arrived, well, until Jason offered them a pile of money, then Chase sat on Avery's hard dick. It's apparently Chase's first time getting fucked by a guy, but he's already had a dildo up his ass, so what's the big deal?