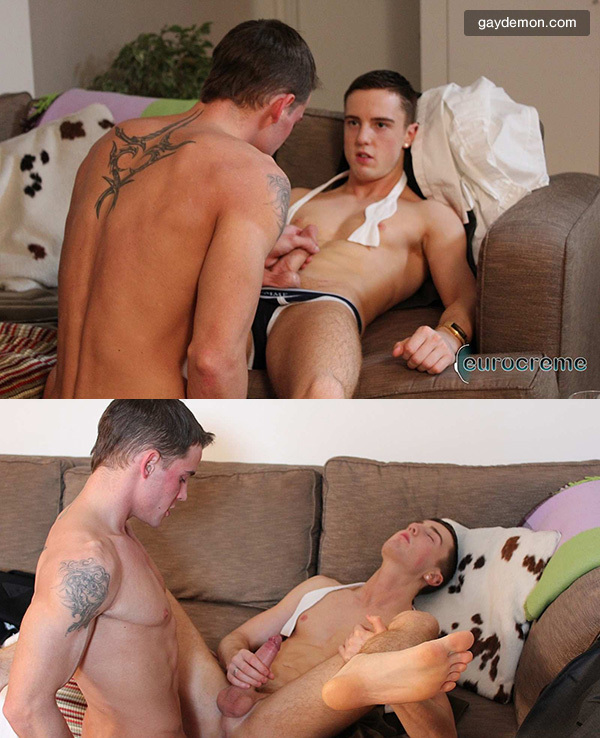 Have you ever dreamed of being the king of the world? You could call on your wizard to wave his magic wand and conjure up your fantasy I would simply have it proclaimed throughout the land: "Hear ye, hear ye, lords and lads ..." (there aren't any women in my fantasy) "Let it be known throughout that from this day forward no man with a big dick shall be a bottom. And by 'big,' the king means nine inches or greater. And he means real inches, not Internet inches."
But I suppose that would make me a dictator, and perhaps not a very good king. I've taken flack before for complaining about big-dicked bottoms, but as a bottom myself, it is a crying shame to see a guy like JP Dubois with his huge cock simply lying across his belly while a guy like Alex Stevens drills his ass. But what's a guy to do? Dubois likes topping and bottoming.
In this scene from Eurocreme, JP Dubois and Alex Stevens are celebrating before one of them (I never did figure out which one) gets married. But as the champagne takes effect, the two stay in their hotel suite and fuck. They strip out of their tuxedos and Dubois swallows his buddy's dick -- he's a great deep throater btw -- then he lies back on the couch and throws his legs in the air and gets boned. But I enjoyed it most when he sat on Alex's dick and his own huge hard-on flopped around in rhythm. Hmmm ... perhaps I have to rethink my earlier proclamation.