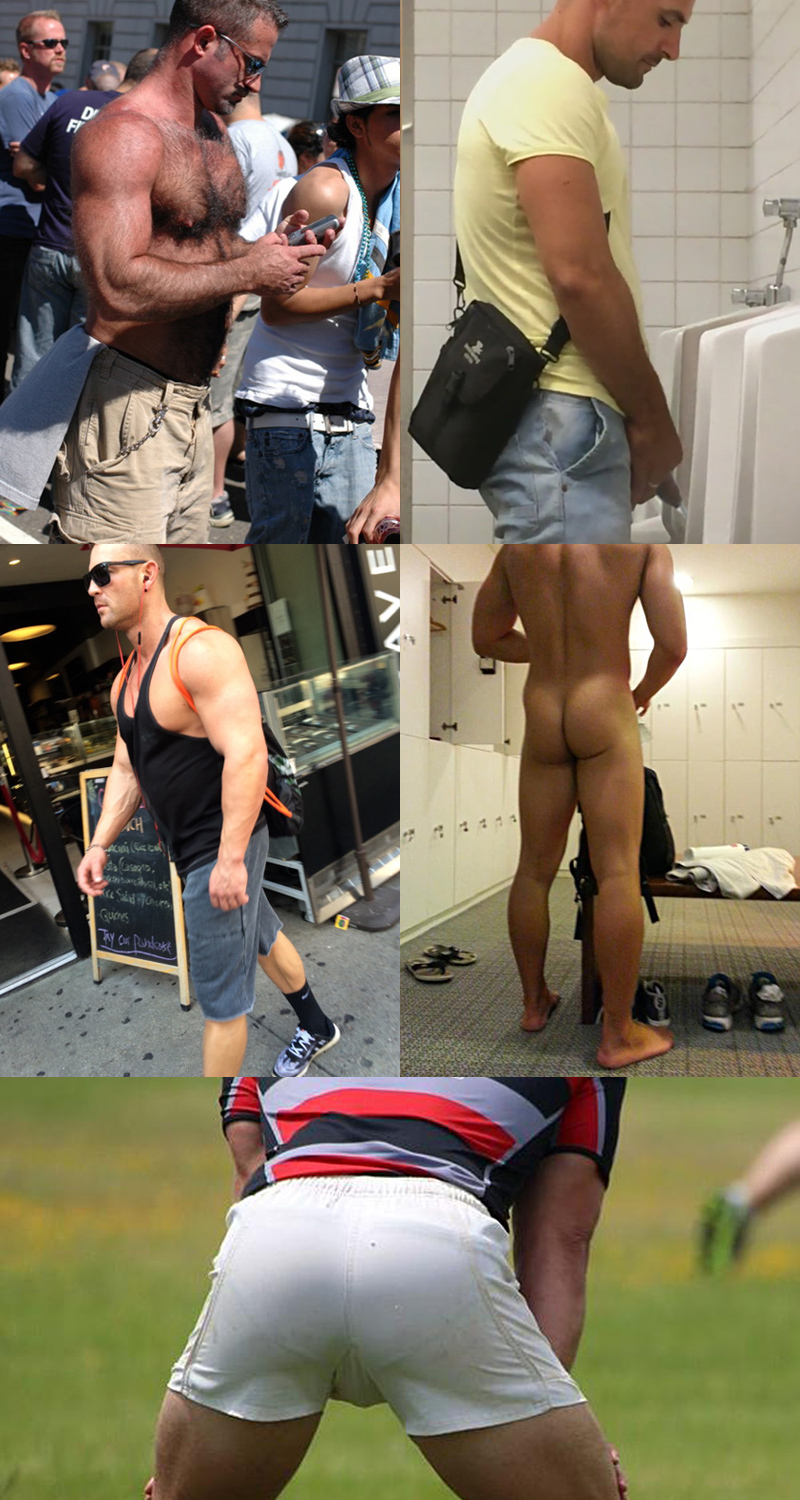 By action, I don't mean jumping rope or storming the beaches of Normandy. Or even jumping rope on the beaches of Normandy. I mean kinda standing around or walking around not doing much but looking hot as fuck while doing or not doing it. And that's called action.
So yeah, when a hairy muscle daddy takes his shirt off in public he knows he's going to get his pic snapped and he's pretty damn okay with that. In fact, he's checking out his cell to see if he can find fresh pics of himself at that moment. Because peepers with cameras are quick. He probably had to wait all of 5 minutes.
I'll admit the guy peeing probably didn't know his picture was being taken. But he did know he's got a nice sized prick and that he gets in as much dick staring time (his especially) as he can during the day.
Mr. Muscles in the thank top is very purposely on his way somewhere. Probably to a waxing appointment. To be followed by an oiling appointment. To be followed by modeling underwear. Not for an underwear retailer. More so for, how to say this, underwear pervert. Allegedly. But if not, he should look into it. Everyone needs some extra dough. Except Britney Spears. She just earned 50K while you read this sentence. I'm so jealous. Can you imagine what I could do with 50K? That's like 50,000 pounds of oatmeal. Or 30,000 for organic. Decisions. Decisions.
The guy in action in the locker room is caught up organizing his stuff while someone takes a pic of his stuff. I want to stuff his stuff. And I don't always say that. He should be happy to hear it.
The sports guy is playing some kind of sport. Soccer probably. But he's simultaneously playing a much more important and entertaining sport. Rear sack hanging, clothing edition. Competing for the championship in that it seems. Go team!
Now check out a different kind of team in action!
[Photos via Dressed for Success, Dick Slips, Every Day Hotness and Holy Dilf Batman]