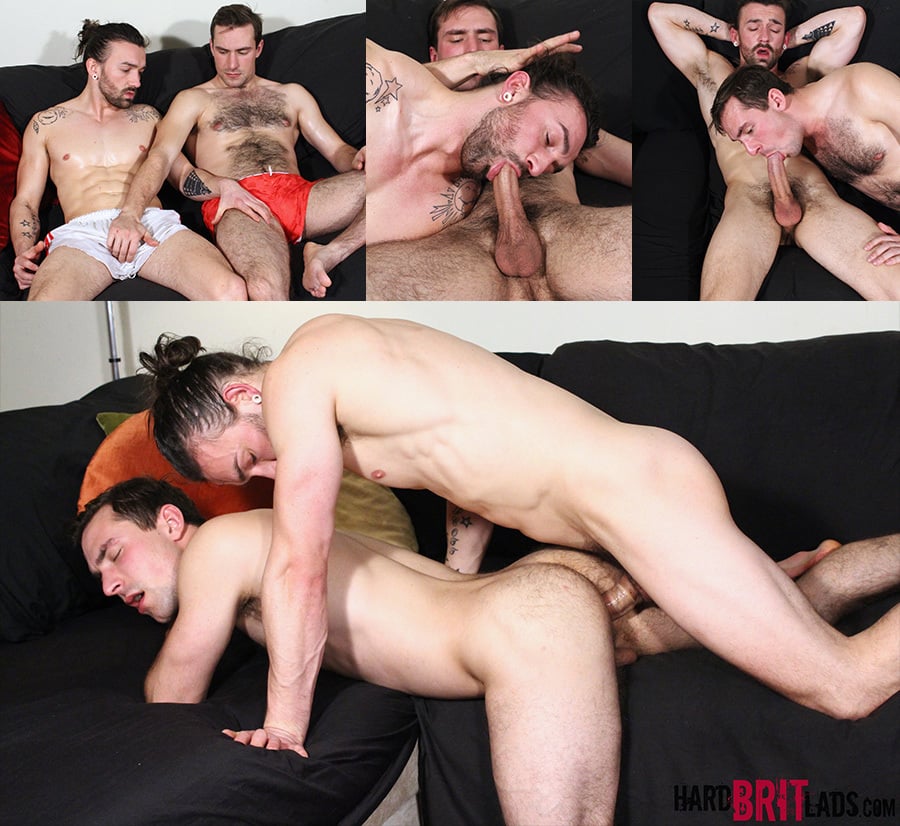 If you don't have long hair, you'd better start growing it -- the man bun is all the rage in Pornland. But please, if your hair isn't quite long enough for a bun, don't do one of those pitiful little knots because we'll just laugh at you. But hairy Brit Guy Rogers isn't laughing at Shane Stone's man bun, he's too busy feasting on Shane's very thick uncut cock, and thinking about how good it's going to feel stretching out his hole. Seeing Guy lying face down on the sofa is a nice treat because he hasn't been on Hard Brit Lads in over a year.
Shane and Guy sit on the sofa side by side rubbing their hands over silky bulges. They're opposites in almost every way: Shane has long hair, Guy's is short; Shane is bearded and Guy is clean shaven; Shane is smooth and Guy is very hairy; Shane's cock is bigger and thicker than Guy's; and Shane has only topped in his seven videos, while Guy has only bottomed in his half dozen scenes.
The shorts come off and the stiff dicks pop out and the guys take turns swallowing one another. Guy lies back and hoists his legs so Shane can taste his hole. After getting it good and wet, Guy slides his finger deep inside and gets Guy revving for something bigger. Shane pushes his fat meat inside and starts pumping. I love seeing him lean on the small of Guy's back and pounds forcefully. After some standing doggy-style fucking, Guy gets drilled on his back and Shane fucks him until he splatters clear pearls across his furry belly. Then Shane stands and aims for Guy's mouth and shoots an amazing flyer across Guy's mouth and onto his chest. The rest of Shane's thick load smears around Guy's mouth and chin.