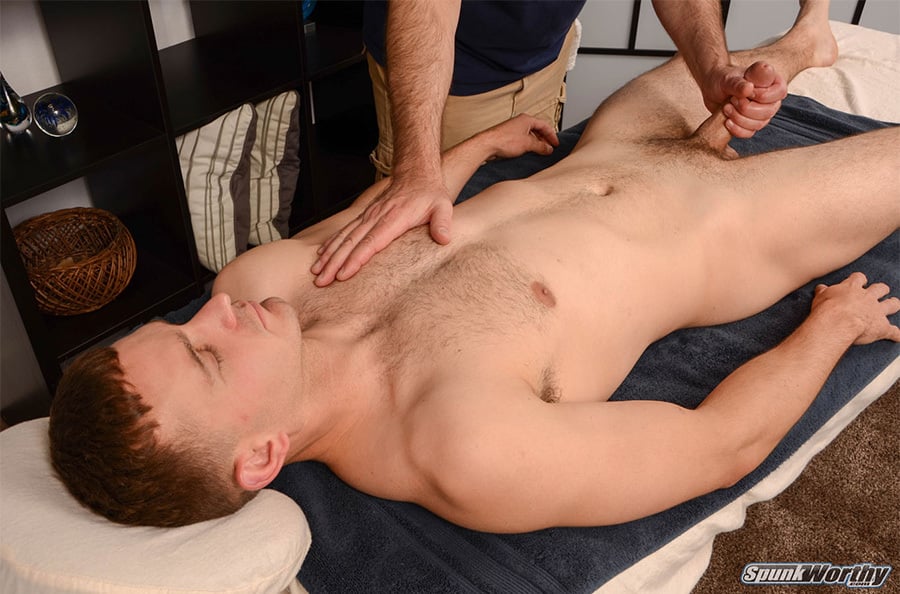 After Gavin did his first jack-off video with Spunkworthy, he hung around to talk to site owner Jason for a bit. He told Jason that he really enjoyed getting happy-ending massages. Who doesn't? Jason was sure that this ginger lad was fishing, either for another chance to unload his nuts again, or more money, or both. Who cares? Jason's always up for servicing a sexy guy on his massage table, so he told Gavin that he could could help him with the happy-ending massage. Gavin hadn't had a guy touch his cock before, so he hesitated until Jason told him the fee.
I have often thought that if I were ever going to run a porn site that it would be a site like Spunkworthy. I'd probably skip the solo jack-off sessions and go for the servicing. But then, I suppose nervous straight guys might run away if a I hit them up with a blowjob session right off the bat. Getting them in the studio to jack their dick breaks the ice and eases their nerves. Handing them a wad of cash to blow their load certainly helps getting them thinking about doing more. I mean, a guy wants to give you a handjob or give you head and he wants to pay you for it. Sounds like a good gig.
Gavin is cute in a geeky kind of way. And when he lies face down on the Spunkworthy massage table you'll notice two things: he's got a nice body and his butt is furry. When he flips over his dick is rock hard. Jason goes to work rubbing his body paying attention to the lad's nipples, which only makes his hard-on dance. When Jason wraps his fist around the ginger's dick, Gavin moans. Spoiler alert: Gavin hadn't jacked off for four days, so when he finally cums, he shoots a giant stream of cum right up the middle of his body -- there's jizz from his pubes all the way up on his chest.