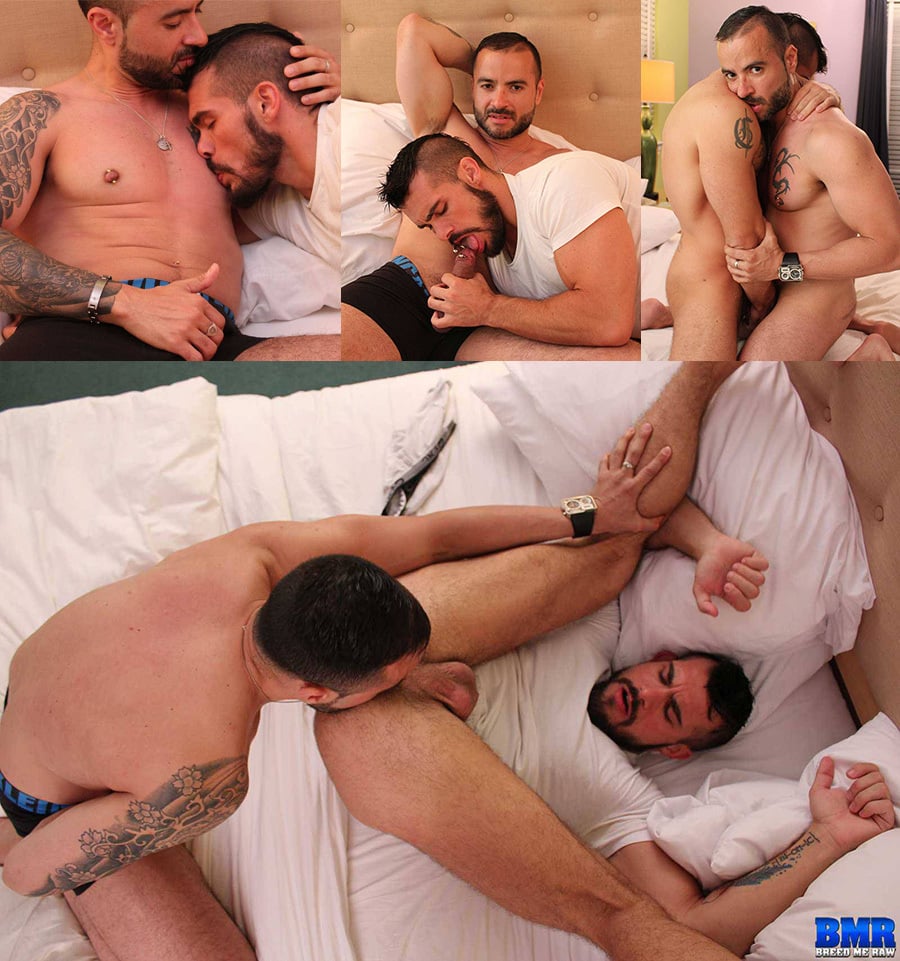 When this Breed Me Raw video opens, exotic dancer Aarin Asker is passed out in bed after a late shift at the club. His horny roommate Gabriel Fisk decides that Aarin needs a fuck more than he needs sleep, so he climbs on top of Aarin, pins him down, and grinds his ass awake. Talk about roommates with benefits.
Aarin Asker seems to have come out of nowhere and suddenly he's everywhere. I'm not complaining, I enjoy him. He's a good-looking man with a dark beard, he has a strong body with a beautiful furry chest, and he also wears a number of tattoos. His hair is a sort of faux hawk, I guess you'd call it, and I have seen the top of it frosted blond, but I prefer it natural and dark like it is in this scene. I've only seen him bottom, which is exactly how I like him: on his back spreading his ass with his hands and begging for some top's hard dick.
When this scene opens Aarin is wearing a t-shirt and underwear and sleeping face down on his bed, Gabriel crawls on top and dry humps his roommate. When Aarin stirs, Gabriel pushed his head down on the pillow and holds him. Then he rips off Aarin's t-shirt, literally, and a few seconds later, he shreds Aarin's briefs with his hands, too. Gabriel dives in and eats Aarin's hole, then teases him with two or three fingers, and finally shoves his hard cock inside. Haven't we all fantasized about being taken like this? I know I have.