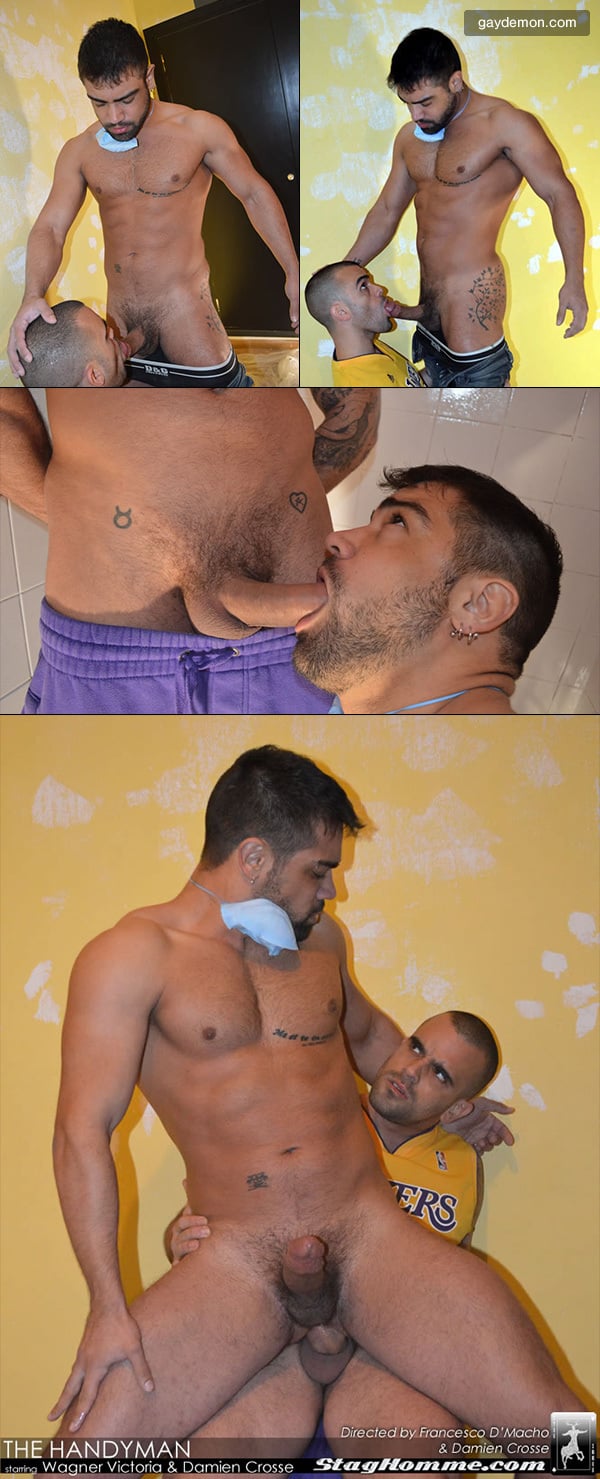 I watch a lot of porn, but it wasn't until watching these two Spanish hunks fucking that I realized gay men around the world make different noises during sex. I'm not talking about the dirty talk, obviously a Swedish guy isn't going to say, "Suck my dick," he's going to say "Sug min kuk." No, I'm talking about those moans and grunts.
In this video from Stag Homme, I noticed that while Wagner Victoria was sitting on Damien Crosse's cock that he was moaning "wu-ah ... wu-ah" instead of "oh ... oh" or "ah ... ah." Both these hunks live in Spain, and while I believe Crosse is Cuban and Victoria is Brazilian, maybe "wu-ah" is the universal way Latin men express themselves when a big cock feels good inside of them.
Anyway, enough of my linguistic curiosities. Wagner is working on getting a room ready for painting when his boss walks in to inspect the progress. Crosse could be the home owner, they're speaking Spanish, so I don't really know. But with Wagner standing on a ladder, his crotch is at Damien's eye level, and I don't need a translator to understand that Damien likes what he sees and presumably asks if he can have a taste.
After swapping blowjobs back and forth, Wagner sits on Damien's 9-inch cock and does the "wu-ah" symphony. And when his ass can't take one more inch, he puts Damien on the floor and drills him. Not sure which top I preferred in this flip flop scene because they're bot hung and hot, but seeing Wagner fucking has the added bonus of getting to watch his very hot butt pumping back and forth. And he's got a sexy one.