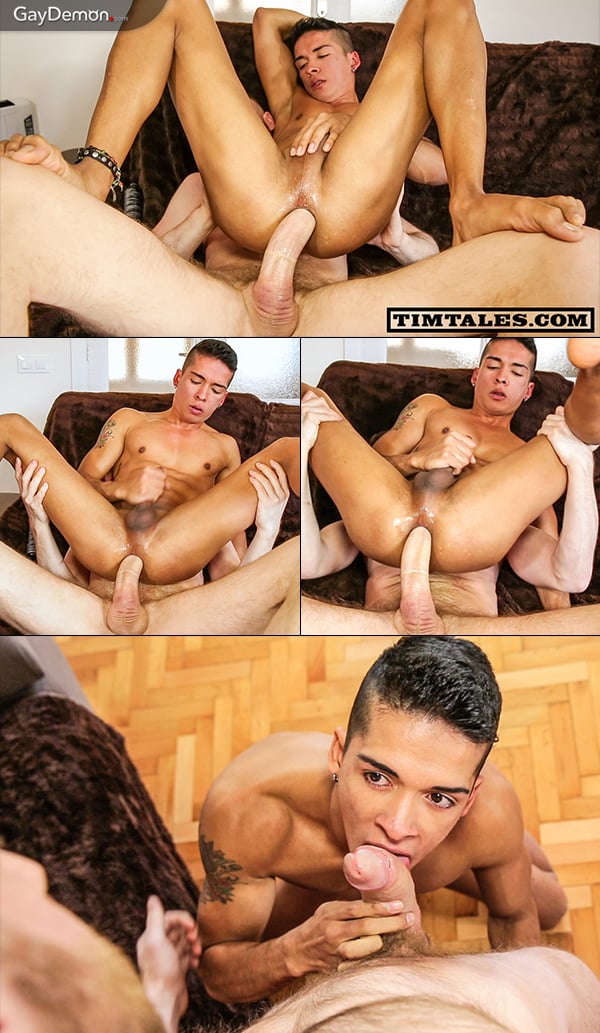 Angel is a cute Colombian lad and he emailed Tim Kruger at Tim Tales to tell him that he's been watching the hung German fucking ass for years. "I have always dreamed in being in one of your videos," he wrote. Kruger likes cute young guys, so he told Angel that if he was ever in Germany that his dream would come true. Now if that isn't incentive to save your pennies for a vacation, I don't know what is.
Down on his knees, Angel tries as he might to swallow Kruger's huge cock, but his mouth in just too small. He does pretty good though and deep throats a good half of that thing. But he's a tiny guy, so a 10-inch monster cock is even more of a challenge. Kruger puts the Colombian down on all fours on the couch and Angel braces himself while Tim starts inching his hole open. Angel arches his ass in the air and Kruger plunge fucks him, pulling his hard-on all the way out and giving us a good look at Angel's gaping hole before he stuffs it again.
But the scene stealer in this one has Kruger sitting back on the couch, Angel is riding him in a reverse seated position, and Tim picks the bottom up by the legs and flails him up and down on his massive cock. It's so fucking hot to watch. On his back, Angel takes Kruger's 10 inches deeper than before and this gets his cum load sailing all over his smooth belly.