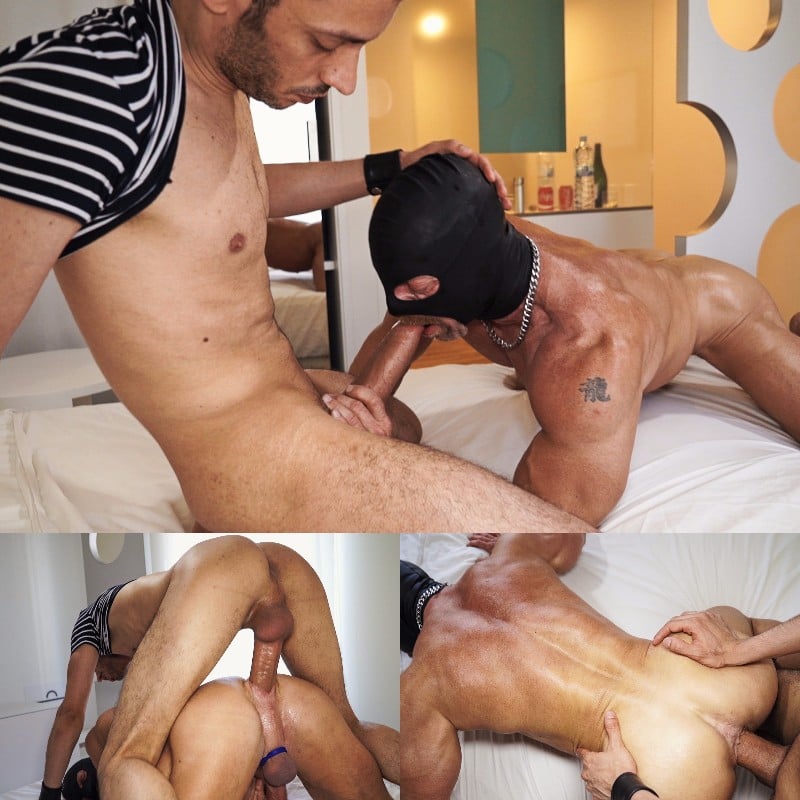 ---
Scene Pictures
Watch Esteban Give Maximus a Double Load Fuck
Bodybuilder Maximum took a ride on Tim Kruger's cock back in May and he headed back to Tim Tales last week for a crack at Esteban's ginormous dick. He couldn't suck very much of it, but his ass made up for his limited oral skills. This dirty old man can really take a deep boning and he even makes Esteban shoot two loads.
I'm not usually a fan of masked men unless they're playing in a deep, dark dungeon. But in Maximus' case I don't mind so much -- truth be told, it's impossible to take your eyes off Esteban's long cock sliding in and out of the man's hole. Who needs to see his face. But seriously, that mask doesn't hide the fact that Maximus is finding his top's dick extremely challenging.
Maximus contorts his face and almost cries at one point. He covers his face with his hand and whimpers. Then while on his stomach he slaps his hand against the mattress repeatedly, all the while singing a symphony of "Fuck ... yeah ... ah ... oh ... fuck oh ... blah ... nooooo." For the finale round of fucking, Maximus is down on all fours and Esteban is drilling him doggy style. Camera man Grobes stands over Maximus filming the brutal drilling, and Grobes helpfully puts his foot on Maximus' shoulder to hold him down. That's fucking hot! Esteban enjoys his ass so much that he cums twice during this scene.