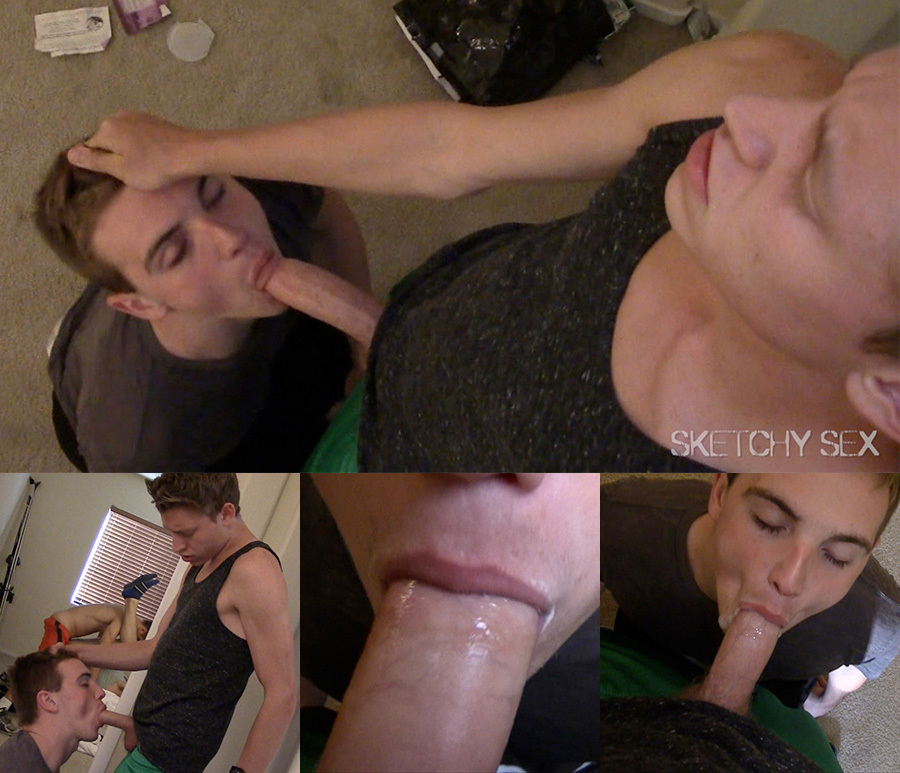 Do you like a guy holding your hair while you chow down on his cock? I'm not fond of it. When it comes to giving head, I really know what I'm doing -- I've been doing it for more than three decades -- I don't need any help. I guess it's a good thing I'm bald, although that usually means that the hairy pullers just reach for my ears, which is even more irritating. Although this cocksucker from Sketchy Sex's Deep Seeding doesn't seem to mind a little manhandling while he's sucking. But he's only one of the bottoms servicing the latest crew of gang bangers here.
Eli Hunter gets his hole filled a lot in this scene. When the clip opens, Eli's kneeling on a kitchen chair and a slim top is pounding Eli's hole. He drains his nuts and pulls out his giant, thick cock. Gosh. That's a piece of meat you want slamming your hole. (I guess this stud gave Eli a couple of loads because that's him in the blue shirt and baseball cap getting sucked off in the collage up top.) As the top walks away, Eli pushes out his load and it slides down his taint and falls onto the chair. (I hate the word "taint," which comes from "it ain't ass and it ain't pussy" and gets applied incorrectly to males, but perineum is too clinical; there's always gooch, which I had never heard before I googled "what's the thing between your anus and balls called?" But I'm not overly fond of that word either, it sounds like the name of some macho and obnoxious beer-guzzling goof in one of those college frat boy Hollywood movies.)
Anyway, back to cum whore Eli Hunter. So, he just squeezed his last top's load out on the kitchen chair and waits. Within a few seconds, another top comes along, drags his cock up the stream of jizz sliding down Eli's gooch, then he pushes his hard-on inside Eli's hole. It's funny how "sloppy seconds" is usually a derogatory term most of the time, but a lot of gang banging barebackers don't seem to mind fucking a cummy butt hole. And really, when you're bottoming at an orgy, you don't want to be running off to the shower every time a guy unloads in your ass, do you?