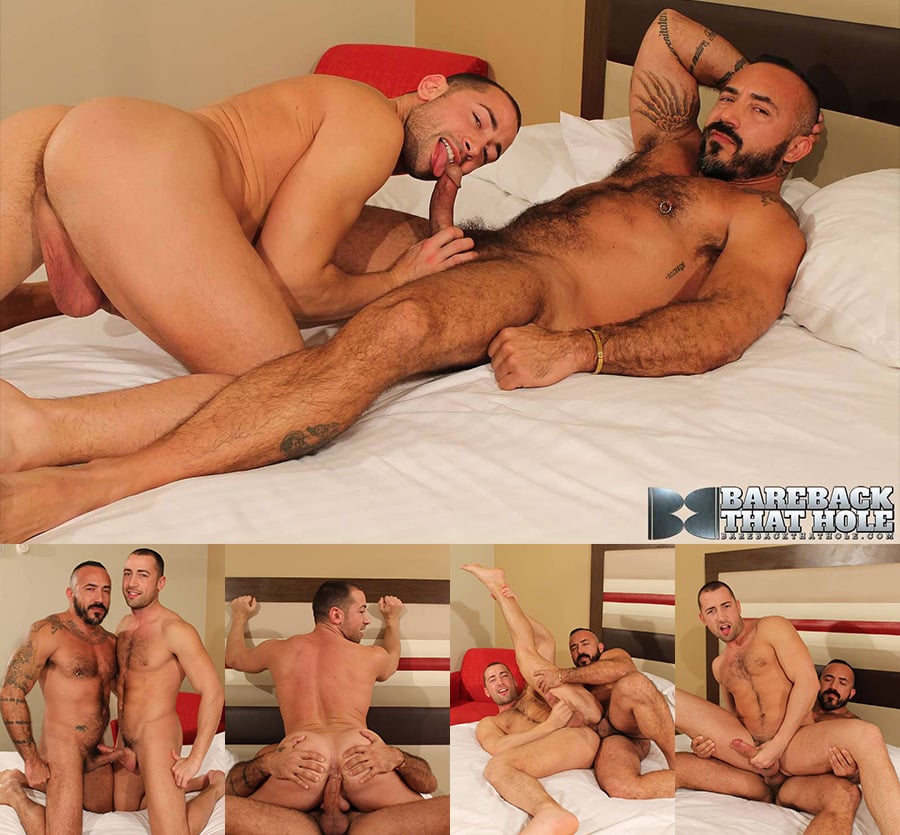 Donnie Dean is one of those power bottoms I never tire of watching. Aside from being good looking and packing an awesome body, he's one of those guys who excels at all things bottom. After the opening kissing in this Bareback That Hole scene, Donnie gets down on all fours to suck Alessio Romero's cock. Alessio leans on Donnie's back and fingers his beautiful round ass, digging deep inside with his wet fingers. All the while, Donnie gulps Alessio's bone with loud gobbling and moaning.
We don't have to wait long before Alessio pushes Donnie face first into the mattress, then he climbs on top. Leaning on Donnie's arms, Alessio thrusts hard into his bottom's ass. Alessio's rear end and thighs are covered in dark curls and Donnie is completely smooth back there, so it's a horny sight. Alessio pulls out to eat hole, then he's back inside, standing and straddling Donnie in a doggy style position that lets him plunge deep.
But Alessio's not all top in this scene. When he needs a break, he lies back with his hairy ass hanging over the edge of the bed, and after beating Alessio's pucker with his cock head, Donnie slide's his long stick inside. Donnie is a completely different kind of top preferring to tease Alessio with slow, deep strokes. He's a passionate fucker giving Alessio lots of time to enjoy every slow inch of his hard-on. Then Alessio takes over again for another round of hard pounding.
See more at Bareback That Hole