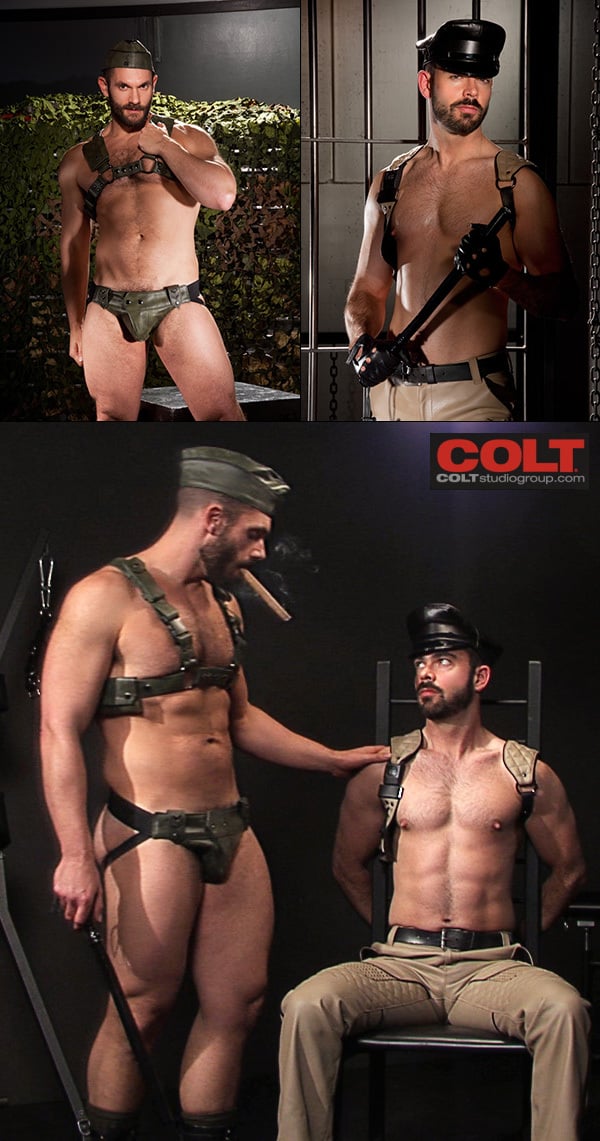 Dolan Wolf is sitting bare chested and tied to a chair. In the shadows his interrogator is a menacing hunk of a man, sucking on his cigar. As Bob Hager moves closer, he's bare assed wearing a jockstrap, leather harness, and army cap. He's holding a night stick and begins his interrogation. This is COLT Studio Group at its best.
Hager blows smoke at his captive trying to intimidate him and begins inspecting his chiseled and furry torso, then manhandling the growing bulge in his leather riding pants. Once Hager has established the chain of command, he releases Dolan from his bindings, and the bearded stud drops to his knees. He uses his teeth to release Hager's stiffening cock from his jockstrap.
Dolan slobbers all over his interrogator's throbbing manmeat. Hager unbuckles Dolan's pants and does some deep throat investigating of his own. Then, standing face to face, these two men stroke each other while kissing. Dolan's gloved hand pumps his captor's stiff prick until it gushes a big creamy load all over the leather.