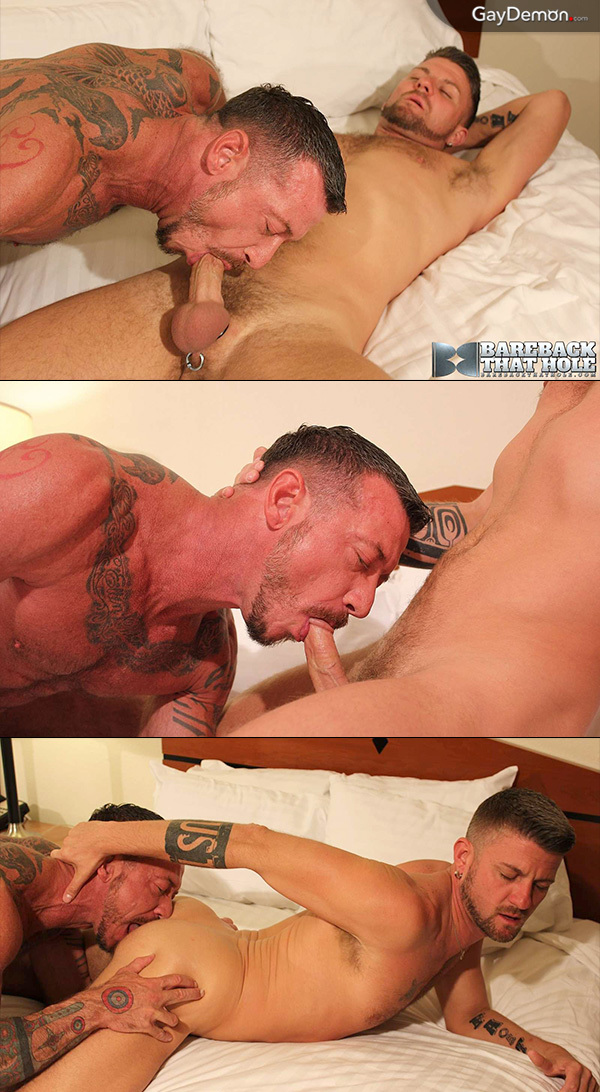 Ray Dalton is a scruffy daddy who is no stranger to Bareback That Hole, this is his sixth video on the raw fucking site. He has both topped and bottomed, but I actually preferred watching this 45-year-old man taking dick.
I thought Christian Matthews had filmed with Bareback That Hole before, but in checking out the site, this looks like his first video over there. However, a couple of months back Matthews joined a gang of horny men in Las Vegas and did a mess of filming, so there will be more of this bearded stud both fucking and getting fucked in the weeks ahead.
Christian and Ray have some pretty dirty chemistry, these two men are clearly into each other. The men take turns slobbering on each other's cocks, then Ray flips over and Christian nails his ass hard. But I really enjoyed watching Ray mount his buddy and rocking hard on his dick. However, this is a flip flop fucking scene and Ray takes his turn pounding his buddy's hot ass. After a good fucking Ray spunks Christian's well-fucked hole, then bottom turns top again and unloads down Ray's hungry throat.
See more at Bareback That Hole